Auto Expo 2020: Maruti Suzuki Futuro-e concept SUV-coupe globally premiered
Maruti Suzuki today showcased the Futuro-e, a futuristic SUV-coupe concept. On the global preview, Kenichi Ayukawa, the managing director and CEO of Maruti Suzuki India Limited said, "Concept Futuro-e is a design study. It presents possibilities of a new global design language for the SUV segment. The segment has recently seen a tremendous surge in popularity."
The Futuro-e has sharp geometric edged designs with an unmistakable coupe silhouette. The sharply sloping roof may not make it to production as it could restrict the rear seat head room severely. The concept has sweeping cross-bar design lamps emerging from the S emblem lending the fascia a very sleek look and the wrap-around LED tail lights adds to the looks even more.
The huge front air intake will most likely make it to the production version so as to cool down the heat-generating Lithium-ion batteries.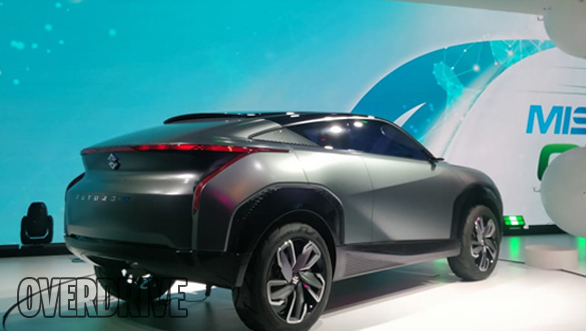 Futuro-e features flexible swivel travel seats and a console which give occupants the freedom to engage with infotainment features. The blue and ivory contrast colour scheme keeps up to the futuristic concept in the interior. Techno finished materials have been used extensively on the trims. The use of translucency effect on the upper instrument panel enhances its futuristic feel that the car strives. Wide sweeping HMI (Human Machine Interface) ensure all vehicle-related information is available on a single touch to the passenger.
The styling of the concept reminds one of the Tesla Cybertruck. It seems that the engineers at Maruti Suzuki already knew what Elon Musk was up to.
Maruti Suzuki also committed to sell one million green cars over the next few years under its 'Mission Green Million'. To attain this goal, the Company will offer a plethora of options for customers comprising CNG, hybrids and electric cars.
Also Read,
Auto Expo 2020: Tata Motors Live Updates
Auto Expo 2020: Hyundai India Live Updates
Also Watch,