Auto Expo 2020: Hero Electric displays production ready scooters, price range upto Rs 3lakh
Hero Electric has showcased four production ready electric scooters at the 2020 Auto Expo. The company states that these scooters will hit production shortly depending on the market response and the public reaction on these scooters. The minimum pricing of this electric scooters is around Rs 40,000 while the top end goes up to Rs 3 lakh.
The new electric scooter AE-29 has a top speed of 55 km/hr. With a charging time of 4 hours the new scooter produces a range of 80 km/ch. It is equipped with a 1000W motor of 48V/3.5 kWh Li battery. The electric scooter features Bluetooth connectivity, anti-theft smart lock, mobile charger, mobile app, digital instrument cluster, walk assist and reverse facility.
With its primary application in the B2B segment, Hero Electric Trike AE - 3 is a first-of-its kind vehicle equipped with a self-standing Gyroscopic stability feature with Auto balance park switch. It offers a range of 100 km/ch and delivers a speed of 80 km/hr in a full charge of 5 hours. Powered by 5500W motor it is equipped with Li 48V/4kWh battery. The vehicle also features digital instrument cluster, mobile charger, walk assist, reverse assist at 26 km/ph, mobile app, GPS, GPRS, real-time tracking and geofencing.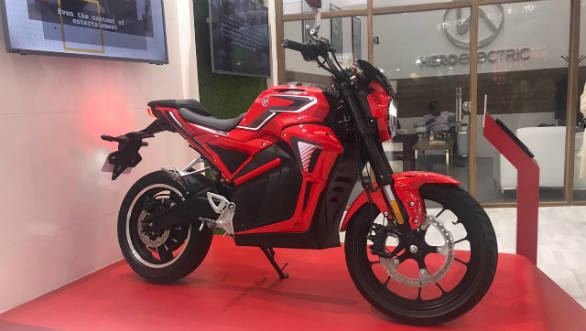 The company also showcased an electric scooter AE-75 in a partnership with Sahara Evols with a top speed of 45 km/hr and range of 80 km/ch. In the low speed segment, the company showcased a scooter AE-8 with 25 km/hr speed and range of 80 km/ch.
Also Read,
Auto Expo 2020 Live Updates: Day 1
Auto Expo 2020 Live Updates: Day 2
Also Watch,