Auto Expo 2018: TVS Apache RTR 200 Fi ethanol revealed
While the stunning TVS Zeppelin cruiser concept is drawing a lot of attention at the TVS pavilion at the 2018 Auto Expo , the other important motorcycle on display is the Apache RTR 200 Fi powered by ethanol. Union Minister Nitin Gadkari has already announced that 'big two-wheeler companies' will launch new motorcycles that will run on 100 percent ethanol, before the end of this month. TVS states that the ethanol powered Apache RTR 200 Fi can be quickly brought into production if government regulations so require and if there is a market demand for ethanol powered bikes.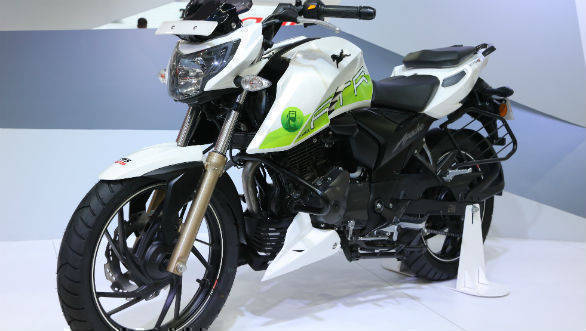 Ethanol is domestically produced from renewable plant sources. It is non-toxic, biodegradable and, safe to handle, store and transport.
At TVS, the engineering bit for converting engines to run on ethanol starts with detailed material testing to check how plastics, rubber, metals, paint and even aluminum reacts to it, since these materials constitute the major components of a motorcycle. The material testing will ensure that none of the components gets damaged or warped due to the more corrosive quality of ethanol as a fuel.
The TVS Apache RTR200 Fi Ethanol comes with an E85 motor that makes 21 PS at 8,500 rpm and generates a torque of 18.1 Nm at 7,000 rpm with a claimed top speed of 129 kmph. This new offering is equipped with a Twin-Spray - Twin-Port EFI technology which, according to TVS, ensures faster throttle response, better rideability and also reduction in the overall emission levels.
Changes required to make the conventional IC engine run on ethanol
Compared to a regular IC engine burning petrol, one running on the ethanol blends make lesser power due to the fact that ethanol has 70 per cent of the calories of petrol. This deficit is compensated by injecting more of ethanol into the engine cylinder.To increase the flow of ethanol, a recalibration of the fuel injection unit or even changing the throttle body completely maybe required. Another way to extract more power from ethanol blends is by raising the compression ratio of the engine. Essentially a 8-9:1 compression ratio  can be increased to 10-11:1.
The good news is TVS is all set to make the switch to ethanol and we can expect their bikes to continue delivering performance on par with those powered by petrol.
Price (Ex-Delhi)
Starts Rs 1,10,388