Auto Expo 2018: Mahindra to showcase XUV500 Hybrid, Halo and TUV300 Plus
As the countdown to the 2018 Auto Expo has started, our expectations from the various automobile manufacturers too have increased. You might have already read about Mercedes-Benz and Renault's plans for 2018 Auto Expo. Here is what you can expect from the Mahindra pavillion at the 2018 Auto Expo in India.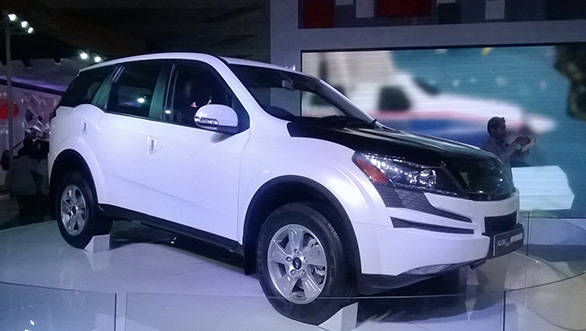 Many would remember the Mahindra XUV500 Hybrid, the SUV with transparent fibre panels that was showcased at the 2014 Auto Expo. We believe the Indian automobile manufacturer will being the production version of the same at this year's motor show. Mahindra claimed that it delivers 18 per cent higher fuel efficiency than the regular model and is also the first manual diesel hybrid in the world. It makes use of technologies like permanent magnet synchronous motor and Lithium Ion battery to aid fossil fuel vehicle propulsion. The electric motor assists the engine while accelerating at low speeds. Regenerative braking technology ensures electricity production while braking and this is used to charge the car's battery.
The Mahindra TUV300 Plus is no longer a secret as the company has already started pre-launch deliveries in select areas in India. The Mahindra TUV300 Plus that was sold is the mid-level trim and as per the invoice, it's priced at Rs 9.46 lakh (ex-showroom). According to company's chairman, Anand Mahindra, the pre-launch deliveries were done to gauge customer's reaction to the vehicle. The Mahindra TUV 300 Plus is, essentially, a TUV300 with a longer wheelbase and proper third row of seats, courtesy of the longer dimensions. Expect Mahindra to also thrown in an improved feature list to differentiate the TUV300 Plus from the sub-4 metre TUV300.
Mahindra Halo performance car
The Halo was Mahindra's first ever electric sportscar concept and was showcased at the 2014 Auto Expo
Mahindra has been developing electric powertrains for three new cars that are believed to be high performance offerings. Mahindra had showcased its first ever all-electric sportscar, the Halo at the 2014 Auto Expo in New Delhi, which had elicited a huge response. Back then Mahindra had claimed the Halo will clock the 0-100kmph dash in under 8 seconds, apart from boasting a 160kmph top speed and a 200km range. It is obvious that Mahindra's learnings from its Formula E program, where the manufacturer has been doing really well, will help it create electric cars boasting some serious performance levels. Apart from looking at launching more and more EVs in the coming years, Mahindra is also working on reducing charge time for its electric cars.
Price (Ex-Delhi)
Starts Rs 9.93 Lakhs
Price (Ex-Delhi)
Starts Rs 8.4 Lakhs
Price (Ex-Delhi)
Starts Rs 12.23 Lakhs