Auto Expo 2016: Volkswagen to showcase three new products including ICS
Volkswagen India has announced that it will unveil three new products at next month's Auto Expo in Delhi. These include the compact sedan based on the Vento, that Volkswagen currently calls the Indian Compact Sedan (ICS). The other two new products in the showcase will be the Tiguan and the Passat GTE.
The company says that the ICS, which OVERDRIVE spotted testing a few days back, is specifically made for India. The spy pics reveal the proportions of the vehicle and a glimpse of the interior. Word around has it that it will be named the Ameo and  it would be interesting to see the level of build quality that the car may get to the segment.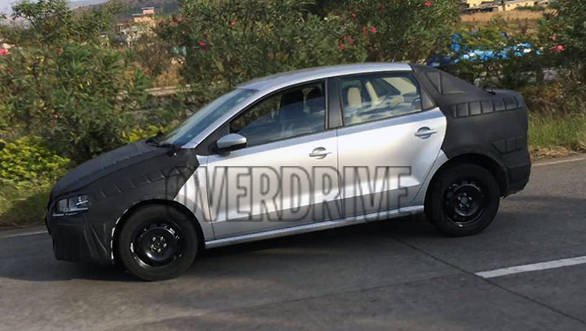 The Tiguan on the other hand is Volkswagen's bid to establish itself in the SUV space of the Indian market. The SUV boasts 4x4 capability and the company promises a strong blend of ruggedness, handling and safety in the Tiguan.
The Passat GTE, is a plug-in hybrid vehicle that gets a 1.4-litre TSI engine that develops 156PS. Mated to an electric motor, Volkswagen claims a combined output of 218PS and a driving range of over 1,000km. Volkswagen will launch the standard Passat in India this year but the Passat GTE will be showcased to highlight Volkwagen's technological prowess.
Besides these cars Volkswagen will also showcase the new 21st Century Beetle which we recently tested along with the Jetta, Vento, Polo and Cross Polo.
Speaking about the new products, Michael Mayer, director, Volkswagen Passenger Cars India said, "The Indian Compact Sedan (ICS), our made-in-India and made-for-India carline is a truly special offering from the Volkswagen stable with all the brand values of best in class safety features, build quality and a great driving experience, and is expected to be a game-changer for us. The premium SUV, Tiguan, yet another highly anticipated product is being showcased, keeping in mind the accelerated growth of the segment that it would be operating in. We will also be introducing the New Passat to the Indian market in 2016. Through the showcase of Passat GTE –we have an opportunity to highlight Volkswagen's environmentally responsible plug-in hybrid technology. Our dynamic lineup comprising the Indian Compact Sedan, Tiguan, and Passat, recently launched 21st Century Beetle is certain to make Volkswagen among the most interesting brands to watch out for at the Delhi Auto Expo, and we look forward to yet another successful edition, at the exposition."
Also see:
Exclusive: 2016 Volkswagen Beetle road test review
Spied: Volkswagen compact sedan for India spotted testing
Volkswagen to unveil 3 new products at Delhi Auto Expo 2016
Mumbai, January 11, 2016: Volkswagen, Europe's leading car manufacturer, today announces that it will be unveiling three new products - Indian Compact Sedan, Tiguan, and the Passat GTE at the 13th edition of the Delhi Auto Expo. With an exciting combination of products based on performance, best-in class safety features, build quality and innovative technology, the lineup underscores Volkswagen's continued commitment and aggressive growth plans for the Indian market. The Delhi Auto Expo will see the World Premier of the Indian Compact Sedan (ICS) Volkswagen's premier sub 4-metre sedan, which has been designed specifically for the Indian market, and is manufactured at the Volkswagen facility in Chakan. There has been an overwhelming response to the compact sedan category in India, and by virtue of its superior technology, class leading features and high safety standards, the ICS is expected to raise the bar in the market for this dynamic segment. Passat GTE - an environmentally responsible plug-in hybrid comes with a highly efficient 1.4-litre TSI engine (115 kW / 156 PS) combined with an electric motor. Fusion of the two drive units generates a system power of 160 kW / 218 PS and enables a driving range of over 1,000 km. In all-electric driving, it can cover over 50 km. This engine ensures maximum fuel efficiency and great performance whilst providing uncompromised driving pleasure. Passat GTE will also offer a preview to the soon to be launched New Passat in India Tiguan - Already making waves in Europe, it is the undisputed best-selling SUV in its class. With outstanding 4x4 performance, Tiguan is a blend of luxury, handling, safety and efficiency, fusing the global attributes of innovation and connectivity to category codes of SUVs in India The 21st Century Beetle – The recently launched 'iconic' 21st Century Beetle is powered by a turbocharged 1.4L TSI engine and is mated to a 7-speed DSG gearbox. The 21st Century Beetle truly represents the future ready Volkswagen capable of delivering EU 6 emission norms. Mr. Michael Mayer, Director, Volkswagen Passenger Cars India said, "We are delighted to showcase our enlarged product portfolio for the Indian market at the Delhi Auto Expo 2016, and believe in the potential that each of these carlines hold for this market. With this dynamic product offering, we would also like to re-iterate our firm commitment to the Indian consumer. The Indian Compact Sedan, our made-in-India and made-for-India carline is a truly special offering from the Volkswagen stable with all the brand values of best in class safety features, build quality and a great driving experience, and is expected to be a game-changer for us." Further elaborating on the product line-up, Mr. Mayer added, "The premium SUV, Tiguan, yet another highly anticipated product is being showcased, keeping in mind the accelerated growth of the segment that it would be operating in. We will also be introducing the New Passat to the Indian market in 2016. Through the showcase of Passat GTE –we have an opportunity to highlight Volkswagen's environmentally responsible plug-in hybrid technology. Our dynamic lineup comprising the Indian Compact Sedan, Tiguan, and Passat, recently launched 21st Century Beetle is certain to make Volkswagen among the most interesting brands to watch out for at the Delhi Auto Expo, and we look forward to yet another successful edition, at the exposition." Product showcase at the Volkswagen pavilion: • Indian compact sedan • Tiguan • Passat GTE (plug-in-hybrid) • 21st Century Beetle • Jetta • Vento • Polo • Cross Polo