Auto Expo 2014: Liberty S unveiled, may come to India
Tucked away beside the main stage at the Vespa stand at the 2014 Auto Expo was a display featuring the Piaggio Liberty S. Piaggio India is exploring the possibility of bringing to India a scooter that is radically different from the format we are used to. The Liberty is a part of a range of big-wheeled scooters that do quite well in Europe. But the big-wheeled scooter, which tends to look like the step-through isn't a shoo-in for India.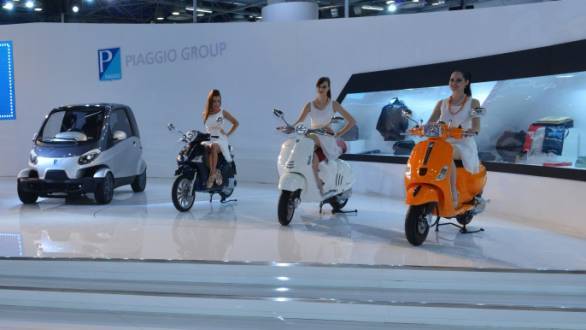 Piaggio Group revealed (from left) the Vespa S, the beautiful Vespa 946, the Liberty S and the NT3 concept at the Auto Expo 2014
Piaggio's Liberty features a fuel-injected 125cc engine though India will likely take the backward step and use the LX125's 10-odd PS careburetted engine instead if it goes to launch. Despite the premium prices, Vespa's products in India tend to have a restricted number of features and most notably basic premium equipment like fuel injection and standard disc brakes go missing in the arrival to India.
Piaggio hopes that the crowds at the Auto Expo will give them a positive reaction to the Liberty and if that happens the company will open out a new niche in the premium scooter space.
However, we believe that while the 14-inch wheels on the Liberty are a great idea - they will improve both ride quality and the dynamics of the vehicle over smaller-wheeled equivalents, the stumbling block for the Liberty is actually going to be its awkward styling that approaches the look of a refined step-through, a format India has steadfastly refused to take to over the recent decades.
Vespa also showed the Vespa S, their next product for India and the 946, a spectacularly good-looking scooter which is likely to come to India as a CBU later this year.