Audi working on long range EVs for India, aiming for a 2020 launch
It is already know that Audi is working on bringing four all-new EVs in the global market by 2020. And if the infrastructure is ready in India till then, it was speculated that Audi India might bring one of those models in the country as well. The German car manufacturer has already begun training its employees and dealers in this direction. Initially, Audi will be selling the EVs through its select dealerships in the country which will be equipped with charging stations.
Seen in this image is the Audi E-Tron Quattro concept
In an interview with Business Standard, Rahil Ansari, Head, Audi India, commented, "The government has clearly sent a message that EV is the future and not hybrids while introducing the GST last year. For the past nine months, we have been working heavily on the infrastructure. We have set up a task force called Electrified India within the company to work on the EV launch in India,"
He further added, "Globally, we are launching four EVs by 2020. By 2025, a lot more models will be added. Our expectation is that Audi will sell 800,000 EVs globally a year in 2025, which should then be roughly one-third of global volume. We are in a position to launch an EV in 2020 latest here in India but we will do so once the infrastructure is in place and there is clarity on all fronts. Launching is the easiest part"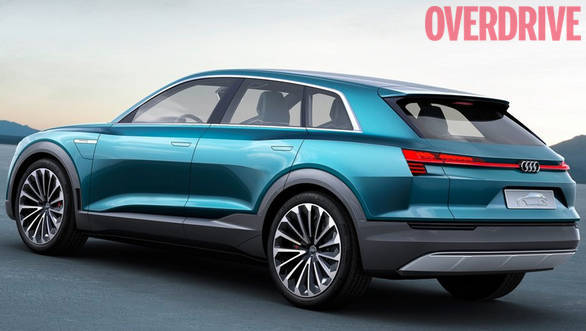 Ansari also specified that the EVs that would be launched globally would not be similar to the ones that will be launched India. Audi is working on a 400 km-plus distance with one charge, which should be sufficient for a round trip between Mumbai and Pune.
Source: BusinessStandard