Audi wins 6 Hours Of Silverstone at the FIA World Endurance Championship
It was a thrilling battle that culminated with Audi Sport making a winning start to its FIA World Endurance Championship (WEC) campaign this year. The season opener was held at the iconic Silverstone Circuit, where the winning trio of Marcel Fässler, André Lotterer and Benoît Tréluyer drove the No.7 Audi E-tron Quattro to the top step of the podium.
The race, however, was not a walk in the park for the winning team. In the beginning, the No.7 Audi faced mechanical gremlins as the gears did not slot in correctly. Consequently, the car fell to the rear of the pack and Benoît Tréluyer had his task cut out.
He weaved through the field and managed to gain on the leaders. After half of the stipulated six-hour time period had elapsed, the Audi E-tron Quattro, driven by André Lotterer moved into the leading position. Eventually, the car managed to finish 4.61 seconds ahead of the Porsche 919 Hybrid in P2.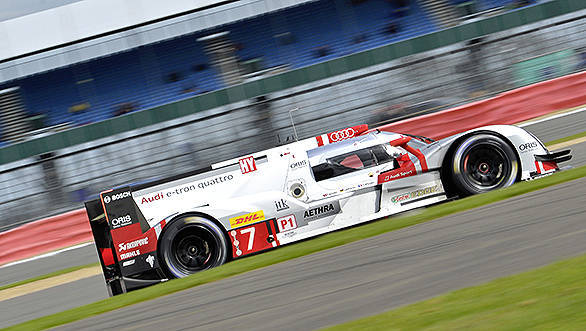 Dr Wolfgang Ullrich, head, Audi Motorsport said, "Congratulations to Marcel, André and Ben, who delivered fantastic motorsport for six hours today. This victory is a dream start of the season and a great reward for the whole squad for the hard work last winter. At the same time, this success motivates us even more for the great challenges awaiting us in the next few weeks. The weekend at Silverstone has also shown that we could be facing what may be the most thrilling and fiercely contested WEC season ever."
The second Audi, Car No.8, bore the brunt of some too-close-for-comfort racing and had to dive into the pits for repairs. This meant that the drivers, Lucas di Grassi, Loïc Duval and Oliver Jarvis had to be content with P5.
The next round of the FIA World Endurance Championship will be held on May 2, 2015 at Spa-Francorchamps.
Audi wins WEC opener at Silverstone
Ingolstadt/Silverstone, April 12, 2015 – Audi Sport managed a dream start of the 2015 motorsport year. In the season opener of the FIA World Endurance Championship (WEC) at Silverstone, the Audi R18 e-tron quattro of Marcel Fässler, André Lotterer and Benoît Tréluyer took victory after a thrilling six-hour race in which the lead kept changing and was fiercely contested. If the 6-hour race in the United Kingdom provided a foretaste of the season, motorsport fans can look forward to an exciting WEC year. Audi, Toyota and Porsche fought a three-way battle with numerous overtaking maneuvers and door-to-door fighting for positions from almost start to finish. When the checkered flag fell, the number '7' Audi R18 e-tron quattro hybrid sports car was running in front and decided the race in its favor with a 4.610-second advantage. The sister car of Lucas di Grassi, Loïc Duval and Oliver Jarvis took fifth place following two unscheduled pit stops. "Congratulations to Marcel, André and Ben, who delivered fantastic motorsport for six hours today," said Head of Audi Motorsport Dr. Wolfgang Ullrich. "This victory is a dream start of the season and a great reward for the whole squad for the hard work last winter. At the same time, this success motivates us even more for the great challenges awaiting us the next few weeks. The weekend at Silverstone has also shown that we could be facing what may be the most thrilling and fiercely contested WEC season ever." At the beginning, events in the race did not seem to augur well for car number '7.' As the correct gear could not immediately be engaged, Benoît Tréluyer, who had started from position five, lost a lot of ground and had to battle his way forwards again through half of the field on the first laps. After two and a half hours, André Lotterer took over driving duties from Marcel Fässler and 30 minutes later the lead in the race. "A perfect day for Audi and for our team," said Lotterer. "We were under pressure from the first to the last lap and could not afford to slip. We managed to do this and the team did everything right at the pit stops and with the perfect strategy. Now, we're going to take this momentum with us to Spa and to Le Mans." The gripping duel between Marcel Fässler and Porsche driver Neel Jani across many laps in which the two Swiss overtook each other several times per lap, was particularly impressive. For the number '8' sister car, a top result seemed to be within reach as well. But two repair stops in which the rear bodywork had to be replaced following contact with a rival and the fixings of the front hood subsequently had to be fastened, cost Lucas di Grassi, Loïc Duval and Oliver Jarvis about seven minutes and, as a result, all chances of clinching a podium place. After starting from the second row, the Brazilian-French-British trio had to settle for fifth place. "A fantastic day for Audi, but obviously the three of us are somewhat disappointed," said Oliver Jarvis. "Still, we have positive impressions: a thrilling race and the first victory for our new R18 e-tron quattro – this whets our appetite for the WEC season." Fans will not have to wait long for the next appearance of the Audi R18 e-tron quattro. In just three weeks from now (May 2) round two of the FIA World Endurance Championship will be held at Spa-Francorchamps (B). For Audi, the race on the famous circuit in the Ardennes marks a 'dress rehearsal' for the season's pinnacle event, the Le Mans 24 Hours. To prepare for Le Mans, Audi Sport Team Joest will be fielding the third hybrid sports car, designated as number '9,' that will be driven by Filipe Albuquerque (P), Marco Bonanomi (I) and René Rast (D). Race results 1 Fässler/Lotterer/Tréluyer (Audi R18 e-tron quattro) 201 laps 2 Dumas/Jani/Lieb (Porsche) +4.160s 3 Davidson/Buemi/Nakajima (Toyota) +14.816s 4 Conway/Sarrazin/Wurz (Toyota) -1 lap 5 di Grassi/Duval/Jarvis (Audi R18 e-tron quattro) -4 laps 6 Rusinov/Canal/Bird (Ligier-Nissan) -16 laps 7 Yacaman/Derani/Gonzalez (Ligier-Nissan) -17 laps 8 Dalziel/Sharp/Heinemeier Hansson (HPD-Honda) -18 laps 9 Leventis/Watts/Kane (Dome-Nissan) -23 laps 10 Bruni/Vilander (Ferrari) -29 laps