Audi prices SQ5 at $51,900 in the US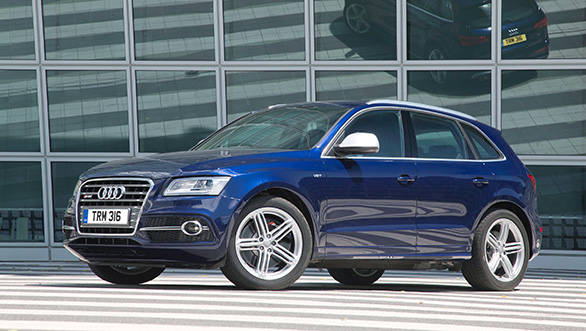 2014 Audi SQ5 TDI
Audi SQ5, the first S variant of the Q-line, will go on sale in the US market around September this year. The high-performance SUV will carry a price tag of $51,900.
The crossover makes power from a supercharged 3.0-liter V6 delivering 354PS and 470Nm of torque. An 8-speed Tiptronic transmission will direct power to all four wheels by means of the Quattro system. It gets to 100kmph in 5.1 seconds and top speed is 250kmph.
The SQ5 has 20-inch wheels as standard equipment, with 21-inch wheels as option. Other additions are, a dark-grey grille, new front and rear ends, aluminium trim, and inside, a flat-bottom steering wheel and grey-faced gauges.
In the interiors, the SQ5 has leather and Alcantara seats, with ventilated leather seats as an option. Tech features like blind-spot monitors and adaptive cruise control, Bang & Olufsen, Audi Connect, with its 3G in-car connectivity and Google Earth maps are all optional to customers.
OVERDRIVE Editor Bertrand Dsouza saw the vehicle in France at the 2012 24 Hours of Le Mans and thought it looked suitably more aggressive than the standard model, while Halley liked the liner power delivery and surprisingly (for a Diesel) pleasing exhaust note. Audi is expected to make the SQ5 available in India at some point, though the time frame remains undecided.
Price (Ex-Delhi)
Starts Rs 58.93 Lakhs