Audi introduces special edition A6 in India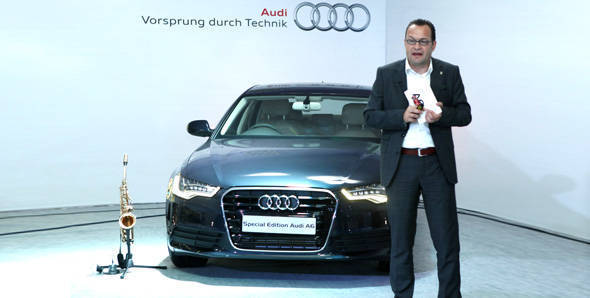 Michael Perschke with the special edition A6
Audi have sold over 6000 A6 sedans in six years in the Indian market. Its not a unique achievement, several manufacturers do those numbers month on month. But this is the executive premium sedan segment we are talking about, which in its entirety comprises less than one per cent of the entire passenger car market. So 6000 cars suddenly becomes a valuable number. To celebrate the occasion Audi is now offering a special edition which comes fully equipped with features that were earlier available purely as optional extras. This special edition Audi A6 will be offered with adaptive air suspension, four zone climate control, a Bose surround sound system though we would have liked to see the Harman Kardon here, eight airbags, a motion sensing boot release, LED headlights, MMI touch with remote and a passenger front seat which can be adjusted from the rear, the last two of which are a first in the Audi A6.
To make the special edition more alluring Audi is also offering four years free service and four years free warranty. The special edition Audi A6 is available at an introductory price of Rs. 46,33,000 (ex-showroom Delhi). Unlike the regular A6, this special edition luxury sedan will be available only with the two diesel engine options, the 2.0TDI front wheel drive and the 3.0TDI quattro.
There are no changes in the technical specifications of the engines. The 2.0TDI is a four cylinder in-line diesel engine with common rail injection system and turbocharger. This power plant produces a maximum power of 174bhp at 4200rpm and a maximum torque of 380Nm available from 1750 to 2500rpm. The 3.0TDI quattro is a V6 diesel with direct injection and a variable geometry turbocharger with intercooler. It produces peak power of 245bhp from 4000 to 4500rpm and a peak torque output of 500Nm available on tap from as low as 1400 to 3250rpm.
There are no changes to the exterior or interior design of this special edition A6 and it looks and feels just like the regular variant. From their experience in the Indian luxury car market since the past few years Audi has realized that A6 owners are typically chauffeur driven. That is what inspires the rear seat entertainment package along with the remote feature.
The adjustable front seat allows the rear passenger to move the co-driver's seat forward and increase their legroom space. This feature was earlier available on the A6L that Audi was offering to buyers in the Chinese market. Audi claims to have specifically adopted this feature for the Indian market in the special edition A6.
After becoming the number one luxury car manufacturer in India, Audi is determined to stay ahead in the sales game. The special edition A6 with features borrowed from the A8 seems to be a perfect recipe to entice more buyers into the brand. With a long list of standard features it now becomes a high value offering in the luxury sedan segment. A high calorie treat for prospective Audi consumers to indulge in!
Price (Ex-Delhi)
Starts Rs 54.42 Lakhs