Atacama Rally 2018: Joaquim Rodrigues set to return for Hero MotoSports Team Rally
Hero Motocorp's motorsport division, Hero MotoSports Team Rally, is set to take part in the Atacama rally being held in Chile between August 12-15. This is the second major international event for the outfit this season, after the Afriquia Merzouga Rally in April.
Notably, this event will also see the return of Joaquim Rodrigues to the Hero MotoSports team, he has been out of action since his crash at the Dakar rally in January 2018. His teammate Oriol Mena, will also hope to continue his good run here. He comes off the back of a top 15 finish at the Afriquia Merzouga Rally 2018 and a top 10 at the Dakar 2018.
Joaquim Rodrigues is set to make his return from injury
This edition of the Atacama Rally will be held around the city of Copiapo in the Atacama desert. Participants will be presented with a mix of mountain, valley and coastal terrain, spread over 1200 kms and five special stages. The competition is set to be intense as well, with many of the top 15 riders from the Dakar 2018 also having a go here.
Speaking of his return to the sport, Joaquim Rodrigues said that he was glad to ride his bike again. He had been with the team during the Merzouga Rally as a mentor but missed racing on his bike the most. He went on to say he had trained hard these past months and had made great progress. Atacama Rally is a learning ground for him personally and he aims to get back in form here.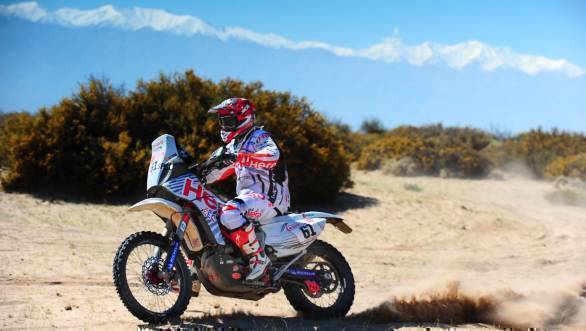 Oriol Mena on Stage 11 of the 2018 Dakar
Dr. Markus Braunsperger, the head of Hero MotoSports, said the Atacama Rally presents a good training and evaluation platform for the team's Dakar campaign, with its similar terrains and the presence of all key competitors of the Dakar Rally. This event is an apt opportunity for them to make any necessary course corrections.