Aston Martin will take its centenary celebrations to 2013 Dubai International Motor Show
Aston Martin will continue its centenary celebrations at the Dubai International Motor Show to be held on November 5-9, 2013 at the Dubai World Trade Centre. It will unveil the CC100 Speedster Concept, recently launched Vanquish Volante and the V12 Vantage S. The company will also introduce new services such as the new 10+10 offers on its Vanquish range, the Restoration service, and the Q Selections by Aston Martin.
Aston Martin V12 Vantage S
The Vanquish Volante is the roadster version of the hugely popular Vanquish. It is powered by the AM11 V12 engine that produces 573PS and accelarates from 0-100kmph in just 4.1 seconds. The V12 Vantage S is the quickest, fastest Aston Martin ever, with the exception of the limited edition One-77. The CC100 Speedster Concept is a celebration of Aston Martin's years of engineering and design. Other cars on stage will include luxurious performance cars such as the DB9 and the Rapide S.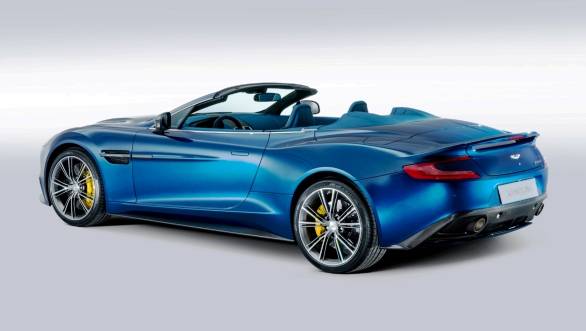 Aston Martin Vanquish Volante
The 10+10 package includes a free of charge 10 year warranty and 10 years of free service. It is limited to the Vanquish since it is the car that flagged off Aston Martin's centenary celebration in early 2013.  Available only at showrooms located in Dubai and Kuwait, the offer is valid specifically for the month of November 2013. The new Restoration service will help enthusiast owners of Aston Martins from all eras to have access to components and refurbishing techniques. The Restoration facility will offer a selection of services from detailing updates to complete restoration. Q selections will help customers with upgradations and customisations.
Aston Martin CC100 Speedster
"In a year when Aston Martin completes 100 years of creating the most beautiful automobiles, we have given to car lovers some of the most desirable and technologically superior cars ever to be produced. Aston Martin, as a brand, has always represented the highest levels of attention to detail and quality, and with the launch of not just a stunning palette of cars but also extremely personalised services, we have taken our commitment to excellence several notches higher," said Ulrich Bez, CEO, Aston Martin.