Aston Martin unveils Vanquish Volante
Aston Martin has revealed a stunner in the form of a droptop version of its Vanquish coupe - the Vanquish Volante.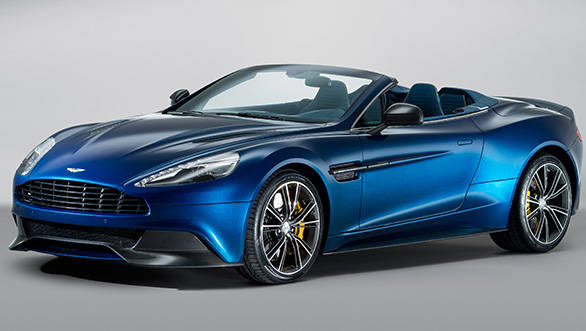 2014 Aston Martin Vanquish Volante
As a convertible version of the V12 grand tourer, the Volante shares its trademark styling with the Vanquish coupe, but adds the drama of a roofless profile. Under the hood though, the likenesses continue.
'Volante' is Italian for 'flying'. The technical specs only reiterate this statement. The Volante comes with the same 5.9-liter AM11 V12 engine as its hardtop sibling, delivering 565Hp at 620Nm of torque. This power is transmitted via a 6-speed automatic with paddle shifters. It does a 0-100 dash in 4.1 seconds and has an estimated top speed of 295Kmph.
2014 Aston Martin Vanquish Volante
The convertible top is fabric and can be raised or lowered at speeds up to 48kmph. It takes 14 seconds to fold. This will be the first carbon fibre-built Volante in the brand's 100-year history.
On the inside, the Vanquish and Vanquish Volante's set-up holds familiar elements such as the engine start and gear selection buttons, while featuring a new infotainment system and a significantly more user-friendly design. The trim now stretches down the whole centre stack and is manufactured from a single piece of material giving a uniform finish.
2014 Aston Martin Vanquish Volante interiors
"This car is what luxury super GT driving is all about, great performance, fantastic style and exhilarating Volante motoring in one superb package. Aston Martin is celebrating 100 years of excellence in 2013, and the arrival of this new sports car -  our ultimate Volante -  underlines that our mission to make the next 100 years even more successful is starting perfectly," said Dr Ulrich Bez, Aston Martin's CEO.
Aston Martin Vanquish Volante
Priced from $297,995 in the US, sales of the 2014 Vanquish Volante are expected to begin early next year.