Aston Martin reveals radical plan to shift to hybrids and EVs across the range, begins with RapidE
Daniel Craig has signed up for most Bond films and either he didn't expect this, or he's so environment friendly, he knew this. In either case, Aston Martin, the storied British Sportscar maker will Rapidly, ahem, switch over to hybrids and electric vehicles. Aston Martin's global chief marketing officer, Simon Sproule said, "By the mid-2020s, every model in our lineup - all series production cars - will either have hybridization or will be fully EV." This is a very swift timeline and is said to be part of the Aston Martin Second Century plan that started in 2015. In that plan are new editions of all four of its core sports cars, the Aston Martin DB11, the Vantage, the Vanquish and the car in this story, Aston Martin Rapid. The plan also expands the range, adding seven models including a mid-engined Ferrari 488/McLaren 720S challenger, the DBX, a crossover and the Valkyrie, a nearly $3 million hypercar - 175 only, Red Bull Formula One will help building it. Famous journalist Mr Richard Wagner got a first taste and he said that the Ride of the Valkyries will be awesome. Okay, we got carried away just a little bit.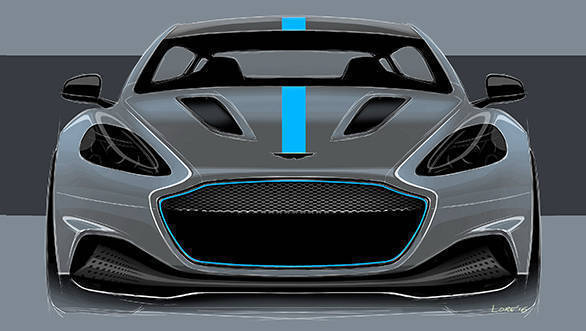 The Aston Martin RapidE will be the first all-electric Aston Martin as the brand switches aggressively over to hybrids and electrics
The Aston Martin Second Century also envisions smaller lifespans for each vehicle. Reports say the the cars being launched, like the Vantage and the DB11 will be replaced by the Aston Martin Hybrid/EV cars that arrive around 2025. It isn't alone, either. McLaren also intends to convert half its range to hybrids by 2022 and Volvo, on the other hand, is pursuing a very rapid elecrtification of its cars - in the next three years!
The lines are the same and the performance will be of the same level too. But by 2025 all Aston Martins will either be hybrids or all-electric!
Now to the car in the photos. The Aston Martin RapidE is to be the brand's first all-electric car when it debuts as a small-volume sedan come 2019. The all-electric DBX variant will be the next one, mostly likely in 2022. The DBX, a crossover, will also a petrol engine as well as a plug-in hybrid, though Sproule noted that the larger batteries needed for plug-in hybrids and their attendant size and weight might lead Aston Martin to working around them. Around 2022, reports suggest, lies the mid-engined Aston Martin with a V6 petrol and a hybrid system.
Aston Martin's RapidE looks every inch an Aston but will be the first all-electric car from the British car maker
Read the Automotive News article for more information
Price (Ex-Delhi)
Starts Rs 4.05 Crore
Price (Ex-Delhi)
Starts Rs 4.4 Crore