Aston Martin Lagonda saloon car spotted testing.
Aston Martin has been planning to revive the Lagonda name for a while now, with their Lagonda SUV concept which was shown at the Geneva Motor Show in 2009 and then the sedan concept shown at the Bangkok Motor Show in the same year.
Last year Aston Martin chiefs spoke of plans to launch a full-size SUV with the Lagonda badge, but that model hasn't yet been confirmed for production. Instead, spied testing on roads near the Aston Martin headquarters in Gaydon, Warwickshire, was a heavily camouflaged sedan which appears to be based on the same VH underpinnings of all series-production Astons. However it features a longer wheelbase than the Rapide S four-door sports car.
This new car's body panels are believed to be made from carbon fibre just like the Vanquish and V12 Zagato. While the angular boot, extended C-pillar, roof line and flanks are all nods towards the original 1976 Lagonda. The heavy camouflage also doesn't help cover up the trademark bonnet which is seen on most Astons today.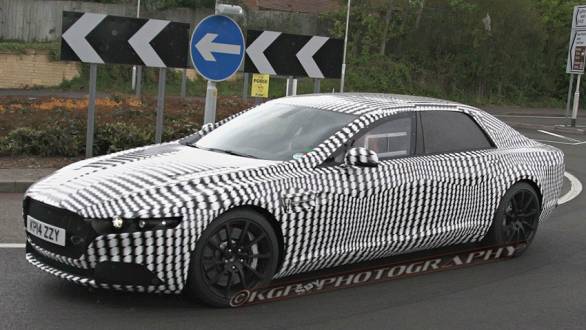 A quick check of Britain's DLVA website tells us that the car is powered by the Rapid S's powertrain, the 6.0-litre naturally aspirated V12 engine which develops 557 PS of power and 620 Nm of torque.
The Lagonda won't be a series production Aston, but will instead be build in limited numbers by 'Q', Aston Martin's dedicated personalisation and coach building arm. Q currently essentially allows customers to personalise their cars 'beyond the options list' ranging from different trims, colours and wheels to unique coach-built models. The car is expected to be launched later this year.
Photos courtesy: KGP Photography