Aston Martin DBX SUV production begins in new facility
The first Aston Martin DBX has rolled off the assembly line, from the British brand's new facility in St Athan, Wales. The new SUV has been in development since 2015, and the first units will be delivered to customers later this month.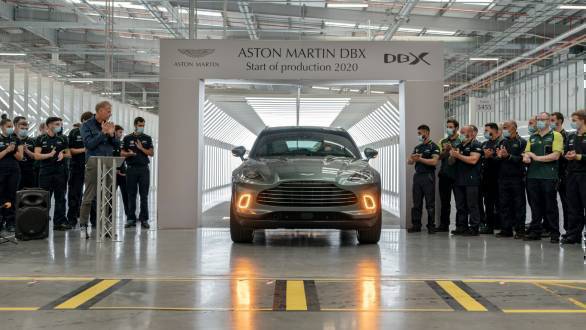 This milestone comes after a period of uncertainty for Aston Martin. The firm had seen its share prices fall drastically in the last few months, and there have been management changes right at the top. But the firm has since received GBP 500 million in funding from Lawrence Stroll, part-owner of the Racing Point F1 team. Further, Andy Palmer, CEO since 2014, has been replaced by Mercedes AMG chief Tobias Moers.
The firm says that the DBX will help it explore segments it hasn't been in previously. The SUV will allow the company to increase its presence in markets where the weather or terrain is less than conducive to rear-wheel-drive sports cars. The greater focus on comfort will also allow Aston Martin to better reach customers who prefer to be driven rather than drive, the brand says.
The DBX's new architecture uses a bonded aluminium construction, like its other cars, for lightness and strength. The Aston SUV weighs 2,245kg and features tech like a three-chamber air-suspension system and a 48v electric anti-roll control system. This can raise the ride height by 45mm or lower it by 50mm for use in a range of off-road and dynamic situations. The DBX continues to use the Mercedes-sourced 4.0-litre twin-turbo V8 as seen on the Vantage and DB11. Here it has been specifically tuned to make 550PS and 700Nm. It pairs with a 9-speed torque-converter, again Mercedes tech, to get the DBX from 0 to 100kmph in 4.5s and up to a top speed of 291kmph. There is also an AWD system and an active centre differential and an electronically limited rear differential.