Aston Martin DB12 makes global debut with a 680PS V8
Aston Martin has been teasing its DB11 replacement for some months, and the much-anticipated supercar has finally emerged. The Aston Martin DB12 retains the shapely proportions while introducing a fresh design language, additional tech features, and a significantly more powerful twin-turbocharged V8.
The British brand markets the DB12 as a Super Tourer and arrives as a considerably improved version of the DB11. The front end has a larger grille, new-look lighting, and a reworked splitter. They also enlarged the front and backtracks to give the coupe a more muscular appearance, and the DB12 debuts the subtly modified logo that would appear on all future Aston Martin vehicles. The unique vents behind the front wheels remain, and the aesthetic changes to the rear end are slight. The car sits on standard 21-inch wheels hiding cast-iron 400-millimetre front discs and 360-millimetre rear discs.
The Aston Martin DB12 replaces the V12 engine with a V8 engine from Mercedes-Benz's AMG division. The 4.0-litre twin-turbocharged V8 engine is combined with an 8-speed automatic transmission and is tuned to provide far more power than previously, making the car even more powerful than the DB11 V12. The engine produces a monstrous 680PS and a colossal 800 Nm of maximum torque. The newly unveiled coupe can reach 100 kmph in 3.5 seconds from a standstill and has a top speed of 325 kmph.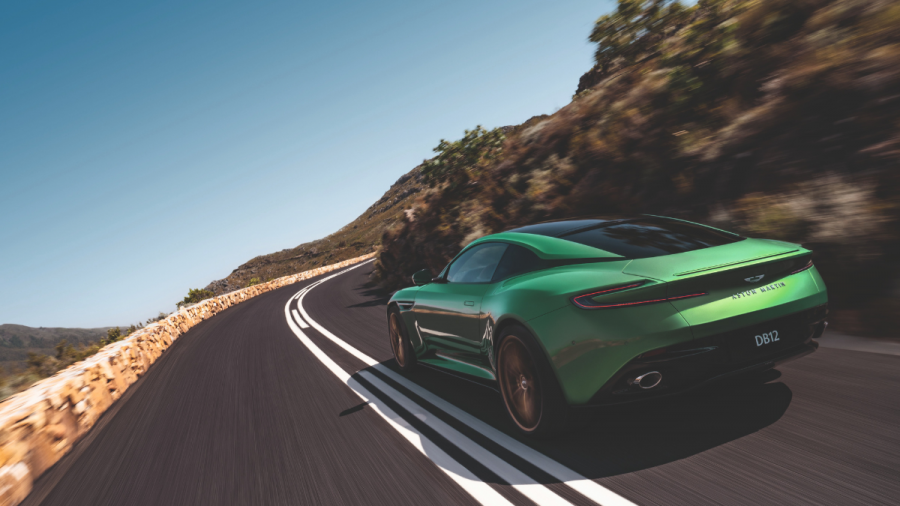 All that power needs a suspension capable of withstanding the additional forces, so Aston Martin offers next-generation adaptive dampers and stronger anti-roll bars. There are three driving modes: GT, Sport, and Sport+, each with varying levels of responsiveness and rigidity. The DB12 is also the first DB model with an electronic rear differential, which can go from completely locked to fully open in milliseconds.
The coupe has a huge drive-centric centre console in the cockpit. The new system has a 10.25-inch touchscreen and works with both Android Auto and Apple CarPlay. Aston Martin claims that this is the company's first in-house built infotainment system. According to Aston Martin, the infotainment system incorporates a new navigation system with internet connectivity and 3D mapping, as well as a mobile device app that receives over-the-air updates.
The Aston Martin DB12 deliveries will begin in the third quarter of 2023. Pricing will be revealed later. Customers can pay extra for unique paint colours (including those derived from the company's vintage models), carbon fibre exterior trim, and carbon fibre sports seats.
Also Read:
Aston Martin DBX 707 first drive review
Aston Martin DBS 770 Ultimate debuts as a swansong for the DBS