Ask Karun: On the 2016 F1 season, Stoffel Vandoorne and Karun's future plans
Karun, what's your take on the 2016 F1 calendar, with Baku making an appearance and Germany returning to the calendar? Is 21 races too much? Especially for the smaller teams with smaller budgets?
Bhavya B
It's a real catch 22 situation. The more races the teams do, the more income Formula One Management and therefore, in turn, the teams receive. The problem with 21 races is that it becomes very difficult for the teams to be on the road so much. I don't mean the drivers because they can arrive on Thursday morning and leave on Sunday night. It's more for the mechanics and engineers plus the TV crews and staff who will spend more than half the year away from home. This sort of stuff takes a toll on their family lives and ultimately becomes unsustainable. The only way to offset that is to have rotating crews like Nascar do but then there's a cost implication. Overall, if the teams are able to receive more money, then they will be able to spend more employing a second set of crew. At some point there is a cross over between cost-benefit and at 21 races, we're starting to perhaps cross that line.
What do you think of young Stoffel Vandoorne? He's been pretty impressive in the way he won the GP2 championship this year. How long before his McLaren F1 test role gets converted to a race seat?
Ajay Cadambi
Stoffel is perhaps the most impressive driver on the Formula racing ladder without an F1 race on his CV at the moment. He has been mighty in every category he's done and his GP2 season this year was just outstanding. I raced with Lewis Hamilton and Nico Hulkenberg in F3 and GP2 before F1. They were the two guys that I 100 per cent thought would deserve a seat in F1 and could be world champions in the right car and team. Stoffel is the same. What's nice about Stof is that he's also a very nice and down to earth guy. I saw him last weekend actually and he was the same guy I remember meeting a few years ago. What is tricky for Stoffel at the moment is that McLaren already have a top notch driver line up and so unless they can place him in another team or if either Jenson or Fernando leave, that's his only chance of a race seat at the moment.
Stoffel Vandoorne in the garage.
What are your plans for the 2016 season of motorsport? You're still working with Mahindra, but we don't know on what. Can you elaborate a little on that? Also will you compete in the 2016 edition of the 24 Hours of Le Mans? Now that you're something of a Le Mans veteran, can you tell us how you approach it as compared to when you first did the race in 2012?
Ishaan Parvatikar
At the moment, my racing programme isn't set in stone yet but I'm looking to do more sportscar racing in 2016 and beyond. I've been very fortunate to do Le Mans for the last four years as well as the World Endurance Championship and races in the European Le Mans Series. The racing is fantastic, the cars are a pleasure to drive and the satisfaction of being competitive at Le Mans is something amazing. I'm speaking with a few teams and hoping to have a programme in place by January. Outside the car, I've got a variety of things going on with TV work for F1 with different channels in the UK, Asia and the Middle East, episodes of 5th Gear plus I work as a mentor for some young Indian drivers and the GT Academy programme. Lots to keep me out of trouble!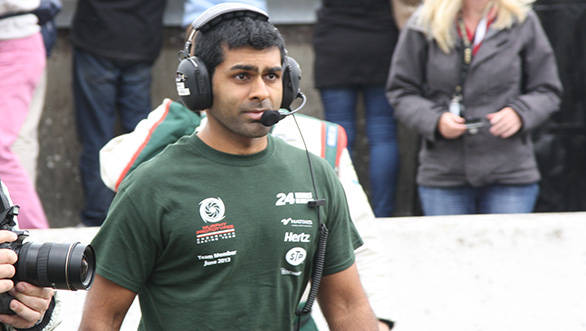 The first time I did Le Mans in 2012, I have to say, was a pretty confusing experience. You're there for a whole three weeks on and off and there are periods of hectic activity combined with total boredom and hanging around! It's actually hard to remember when to eat, when to sleep, when to train and when the PR activities are. I was lucky to have two team-mates who between them had done Le Mans 23 times at that stage so I just followed them around. But in 2012, I focussed a lot of energy on the build up as I just wanted to drive and learn before the race so I was pretty shattered for a couple of weeks afterwards. Now I've understood a lot more about the way the whole week works, I save my energy up for the actual race. I don't really care about being fast in qualifying or using new tyres. All I want to do is understand the fuel strategy and the tyre life so we can set the car up for the race. I take my bike with me and some books so I also just shut myself away from things and have some alone time in the little camper van which is very important.