Ashoka Concessions launches Road Safety awareness campaign in India
Ashoka Concessions Ltd, a subsidiary of Ashoka Buildcon Limited, has launched its Road Safety awareness campaign for 2016. This month long campaign is scheduled from January 10 to February 9, 2016. Every year the company celebrates Traffic Safety Month with the focus on encouraging road safety practices amongst employees as well as road users.
The highlight of this year's campaign is that the company will be conducting safety related lectures across more than 200 schools. According to the company, "The spirit behind this mission is that these youngsters would soon be driving their own vehicles and it is important that they are well informed about traffic rules."
The campaign will include several activities working with local administrative bodies, at these schools and also in hospitals in an effort to spread the message of road safety. Volunteers will also be interacting and requesting commuters who drive by Ashoka's toll plazas to observe basic traffic rules while driving. The activity will be conducted in and around 20 of Ashoka's road projects in West Bengal, Orissa, Karnataka, Tamil Nadu, Madhya Pradesh, Chattisgarh and Maharashtra. The company has also donated breathalysers and speed guns to the police department at various locations.
Because many truck drivers are unaware that they are suffering from poor vision, Ashoka will be conducting free eye check up camps for them. The company is also installing robotic flagmen and other modern traffic diversion devises in order to avoid human causalities. Additionally, Ashoka will also conduct special safety training sessions for labourers at road construction project sites. To reiterate message of safety, the company has lined up activities which include safety message signs at toll plazas, hoardings and also the toll tickets with messages printed on it.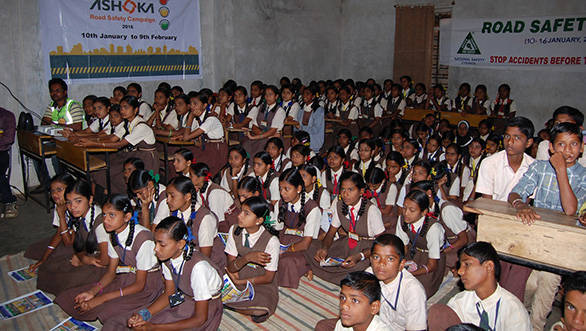 Ashish Katariya, the managing director of Ashoka Concessions Ltd, "Safety is a collective responsibility and we are trying to encourage commuters, workers and drivers to help us in reducing fatalities and accidents on highways. We are also conducting seminars at schools and colleges as they represent the future of our country. Their exposure to speeding and stunts, as glamorised in movies, needs to be countered with awareness regarding the dangers of ignoring traffic rules. Change will not come overnight, but continual efforts will definitely make a difference."
Related Stories