Ashok Leyland launches truck series named Captain after MS Dhoni
Ashok Leyland has launched the Captain series of heavy duty commercial vehicles with brand ambassador Mahendra Singh Dhoni and managing director Vinod K Dasari. The Captain 2523 Tipper will be the first model of the series that will include tippers, tractors and haulage trucks.
The Captain features an indigenous designed, ergonomic cab with exceptional performance and superior comfort and will be manufactured at Ashok Leyland's Uttarakhand manufacturing facility. A customized powertrain will be available across 16 Tonnes to 49 Tonnes of gross trailer weight with combinations of 160PS to 360PS engines that promise greater efficiencies and lower vehicle operating costs.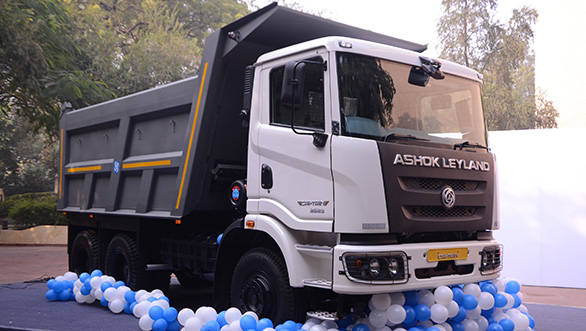 Captain truck series by Ashok Leyland
Speaking at the launch Vinod K. Dasari, managing director, Ashok Leyland commented, "The Captain is inspired by Mahi's values of leadership: performance, perfection and innovation. The product exceeds our expectations of performance, reliability, quality and durability. We are confident the CAPTAIN will change the dynamics of the CV market, firmly put our customers on the path to greater and sustained profitability and become a preferred brand for truckers."
Ashok Leyland officials and Mahendra Singh Dhoni with the new Captain series trucks
The Captain 2523 Tipper is best suited to the rigors of load carrying in mines and the high torque common rail injection diesel engine is capable of tackling the steep gradients. The trucks will come with a three year full vehicle warranty and a four year warranty on the driveline. This will also be backed up by over 475 full service outlets.