Are current Street 750 owners justified in demanding a free brakes upgrade from Harley-Davidson?
A group of customers who have purchased Harley-Davidson Street 750s wrote to OVERDRIVE a couple of days ago. They say that they've read about the brake upgrades on the new 2016 Harley-Davidson Street 750 and that the Harley dealer has been offering them the choice of upgrading to the entirely new system for the sum of Rs 60,000. This group of customers is demanding that Harley-Davidson should be offering them the upgrade for free.
The Harley-Davidson Street 750's brakes are far, far, far from the best brakes but are the customers right? The answer is complicated.
First, cast aside your emotions for now. The Harley-Davidson Street 750's brakes are not great. This is not a hidden mysterious fact. Their lack of bite and the inordinate amount of effort required to produce a reasonable stop is a part of practically every riding story or road test, including ours. However, they're not useless either. Certainly not to the point where their quality is a legal issue.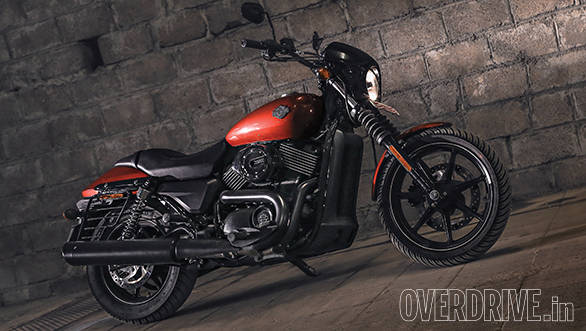 "While the brakes don't lack power, they aren't super sharp but more annoying is that you cannot actually feel the front contact patch under hard braking which means you have to resort to listening to the MRF tyres' squealing as a guide to how much traction you have. I wish there was more feel, or there was ABS, even if optional." - From our review of the 2014 H-D Street 750, March 2014
Second, Harley has been at the forefront of offering test rides to practically all and sundry. I could name a number of other manufacturers whose big bike business didn't include test rides from the start, and perhaps still doesn't. The point is that these customers most likely took a test ride and read the test reports before they put their money down. In that sense, they weren't duped.
Now technically, given that the brakes aren't entirely useless and that H-D didn't sell the bike sight unseen, the customer's claim to a free new braking system doesn't hold water for me even though I'm pretty sure that a better set of brakes would make their riding lives easier.
To extend this line of reasoning, any time any manufacturer updates or upgrades any product, they should start rolling out these to all of its previous customers free of cost. Which, let's face it, is just silly. But evidently not clear to everyone - there's already a magazine that's taken this very stand on this issue. In fact, on my personal KTM Duke 390, the brakes do not quite have the bite I want. It isn't an unknown issue either - just see the RC 390 in the track test from our November issue. But am I expecting KTM India to offer me each and every update they make to the brakes in the future for free? Not holding my breath.
We asked Harley-Davidson India about the issue and they said that the company updates products as a matter of a routine business. They say that the 2016 model's upgrades have caused a price change (we checked, the new bike is Rs 12,000-odd more expensive on-road Mumbai). The company does not recommend retrofitting the 2015 model with 2016-specific components. This is, of course, the expected stand from the company.
We're not taking Harley's side here. The reasons the Harley didn't win our Bike Of The Year last year were the brakes and middling overall product quality.
Then you might ask how is it that the company is not recommending a retrofit of the 2016 equipment to the 2015 model while the dealer already has a price on it? I would also ask how a company with as much of a reputation as Harley-Davidson didn't add ABS at least as an option to the 2016 model given that the weakest chink in the 750's armour was the brakes in the every single story published about it.
Let's work towards a solution now, shall we?
First, the case for a paid upgrade stands. A quick look on Street forums online shows that many in the US have successfully completed the retrofit, never mind what H-D says about it. So if a truant dealer wanted to order up a set of 2016 parts and bolt them on to the 2015 model, it would probably work. More importantly, upgrading parts of a bike that I find unsatisfactory is my prerogative and the manufacturer can only deny me warranty coverage. Which, obviously is my lookout. Would I just up and spend on the whole new system though? No. And I'll come back to that.
Second, the case for a free upgrade is too weak. The only way this group of customers can do that is to take H-D to court and prove that the brakes were dangerously inadequate. I suspect that proving they were less than the best wouldn't be hard. Proving that they were bad enough for liability would be impossible.
Finally, solutions. For the customers, I would say spend about Rs 2-3,000 on a set of better brake pads and see. I know that SBS ( a Scandinavian brake company) already makes three grades of more aggressive pads specifically for the Street 750 (review by motorcycle.com) which will bring progressively harder bite and better braking.
For Harley, I would say reign in the dealers. It sounds like one or more of them spotted the forum where the retrofit was completed and a quick-buck scheme was hatched behind H-D India's back. Far more importantly, lead from the front. ABS should have been on the priority list for the 2016 model, not a shoo-in on the 2017 model.
We do not believe the customers were misled. They do have a bike with poor brakes but there's enough information and test rides available to demonstrate that this was part of the product being sold from the start.
Unfortunately, while I feel for the poor sods riding their Street 750s with poor brakes, I also think that as customers, they need to be more responsible. They simply shouldn't have bought the bike if the test ride wasn't fully satisfactory.
Better brake pads is a vastly more cost effective and pragmatic solution than insinuating that the company duped them and now needs to offer make-goods. Or indeed the simplistic argument that Harley-Davidson is behaving irresponsibly in the hunt for profit.
Let us know what you think about this issue in our comments section below.
Price (Ex-Delhi)
Starts Rs 5,34,000