Aravind KP to ride Sherco TVS at 2017 Dakar Rally
After ten years of riding for TVS Racing, Aravind KP will be representing the brand at the gruelling Dakar Rally in 2017. Sherco TVS has been competing at the Dakar for two years now, with 2015 being the first year of competition for the Indian outfit. While the team has thus far fielded foreign riders at the event, Aravind KP will be the first Indian rider to ride for them at the Dakar. Thus he will also become only the second Indian rider to compete in the Dakar Rally, after CS Santosh, who participated in 2015 on a KTM and on a Suzuki in 2016.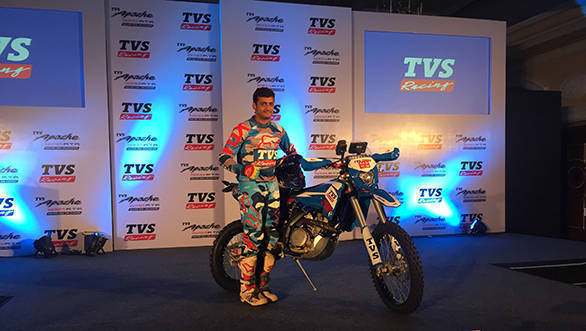 Aravind KP started racing for TVS around ten years ago and has since gone on to win nearly every event there is to win in India. Since 2006, Aravind has won 15 national championships in dirt track rallies and Moto Cross. In 2011, he was the first Indian to win overseas, at the Motocross Championship in Sri Lanka. He most recently proved his worth by winning the 2015 Raid de Himalaya, which is widely considered one of the hardest and most extreme rallies there is.
Aravind's team mate at Sherco will be Juan Pedrero, a Spanish champion. The third rider will be a European but has not been finalised just yet. While this is just TVS' third attempt at the Dakar the South Indian company has the richest heritage in Indian two wheel motorsport. The racing story started about 33 years back with a humble 50cc moped that was capable of revving well over 10,000rpm and hitting a top speed of 105kmph, a shocking number for the time in India. Since then, TVS racing has been actively involved in both tarmac and dirt racing and has won eight championships. Most recently, the company signed Shreya Sundar Iyer as it's first woman rider and also announced its support of the Alisha Abdullah Racing Academy for women racers.