APRC 2017 India Rally: Gill sets the pace on Day 1 at Chikamagalur, but just so
Team MRF Skoda driver and defending champion Gaurav Gill clocked the fastest time of the day during the opening Super Special Stage (SSS) during Leg 1 in the fifth and final round of the FIA Asia Pacific Rally Championship (APRC) 2017 – Coffee Day India Rally of Chikmagalur in Karnataka. Gill's team-mate Norwegian driver Ole Christian Veiby almost caught up with him, however, registering a time only two-tenths of a second behind him. The SSS was held at the Amber Valley School grounds to a packed crowd.
Starting last with a reverse starting order, Gill with co-driver Stephane Prevot in his number1 Skoda Fabia R5 rally car set a time of 2min 17.7seconds as the audience cheered him on. Veiby and his co-driver Stig Skjarmoen who had gone before Gill managed 2min 17.9seconds through the SSS in their first outing at the Coffee Day Rally of India. The 21-year-old is six points shy of leader Gill in the championship in a closely-contested season.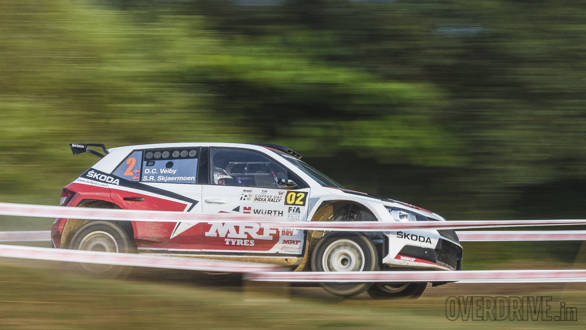 Finishing a distant third behind the leading duo was PG Abhilash (co-driver Srikant Gowda) of Team R3A PGA Motorsports in a Subaru Impreza WRX Sti with a time of 2min 30.5seconds, but ahead of New Zealand's Mike Young (Malcolm Read) in their Volkswagen Polo R2, Sumit Panjabi (Nitin Jacob) in the Mitsubishi Evo-VIII and Sri Lanka's Shafraz Junaid (Akhry Ameer).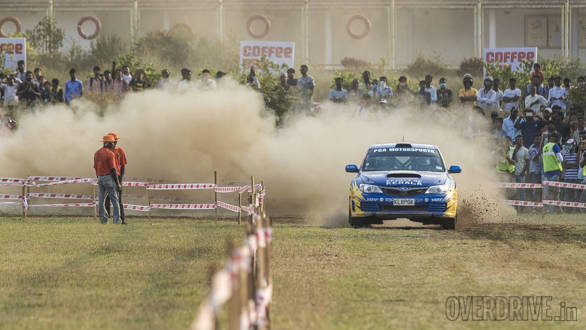 Earlier in the day, the competitors had addressed the media after the Shakedown in the morning. On Thursday they got an idea of the stages for the rally through a reconnaissance. At the time, Gill stated that the rally which he had dubbed the 'Rally of a 1,000 corners' had more open and wider stages. "The surface is also much smoother than the bumpy one we had last year. So the average speeds will be much higher than in the previous edition," he said. Gill had won last year's Chikmagalur to mark a perfect season. This time around, however, Veiby and Gill have had a closely-contested season.
Veiby, meanwhile, went one better as he compared the Chikmagalur stages to his experience at the Rallye de France in Corsica during the WRC-2. "Corsica is called the 'Rally of 10,000 corners. But after going through the stages here, Chikmagalur is more like a 'Rally of a million corners' and it has fast corners," he said.
During the shakedown event, Veiby was the quickest clocking 01minute 23.3seconds as against Gill's 01minute 25.0seconds as the pair had the first feel of the Skoda R5 this week.
In the MRF FMSCI Indian National Rally Championship (INRC) that is being run concurrently and also organized by the Motor Sports Club of Chikmagalur (MSCC), Younis Ilyas (Harish Kumar) was the quickest overall (02:35.7) followed by Arjun Rao (Satish Rajagopal) and Amittrajit Ghosh (Ashwin Naik) of Team Mahindra Adventure.
On Saturday, sections 2 and 3 of the first leg will be run to cover a total distance of 353.41km through Chettanahalli, Chandrapura, and Kumargode. Of the total Leg 1 distance, 161.3km consists of special stages.
Provisional results (Super Special Stage – 2.1 Kms):
FIA APRC: 1. Gaurav Gill / Stephane Prevot (Team MRF, Skoda Fabia R5) (02mins, 17.7secs); 2. Ole Christian Veiby / Stig Rune Skjarmoen (Team MRF, Skoda Fabia R5) (02mins, 17.9secs); 3. PG Abhilash / Srikant Gowda (Team R3A PGA Motorsports, Subaru Impreza WRX Sti) (02:30.5).
MRF FMSCI INRC (Overall): 1. Younis Ilyas / Harish Kumar (02:35.7); 2. 2. Arjun Rao / Satish Rajagopal (Volkswagen Polo R2) (02:36.2); 3. Amittrajit Ghosh / Ashwin Naik (Mahindra Adventure, XUV 500) (02:36.6).
Images: Ishaan Bhataiya
Price (Ex-Delhi)
Starts Rs 6.17 Lakhs