APRC 2017 India Rally: Gaurav Gill claims third Asia Pacific title with victory at Chikmagalur
Gaurav Gill, co-driven by Stephane Prevot, maintained his pace to cruise to his third FIA Asia Pacific Rally Championship (APRC) title as the 2017 Coffee Day India Rally of Chikmagalur, Karnataka came to a close on Sunday. The champion was joined by his Team MRF Skoda team-mate Ole Christian Veiby (co-driver Stig Skjarmoen) as first runner-up for a 1-2 sweep of the podium. Veiby had a great run on Day 3 to make up for time lost due to technical issues with his Skoda Fabia R5 a day earlier but still ended the day 17min 38.4 seconds behind Gill.
The 21-year-old Norwegian pushed hard to win three of the four stages held at the coffee estates of Coffee Day Global after Gill won the first stage on Day 3. Putting in his best effort he ended the deciding fifth round of the 2017 APRC with 30 points for a total of 160 championship points, while Gill scored 38 for a winning total of 174 points. The duo was only six points apart going into this round.
Through the 2017 season, the Indian ace won three of the five rounds, Veiby triumphed in the other two as MRF Tyres bagged the team championship while Skoda yet again took the manufacturers' trophy. It was also Gill's 17th win in APRC since his debut in 2008. While he did not take chances through the day, Gill sure put up a show for the crowd as he went through the stages in his 'flat-out' style.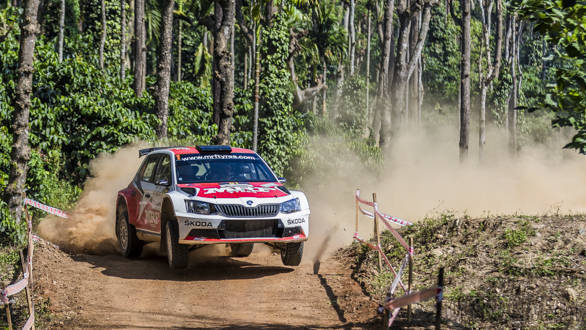 Gill in action during the first stage of Day 3
Meanwhile, having completed all the stages in third place Abhilash PG retired during the transport run due to mechanical problems with his Subaru Impreza WRX STi to finish fourth, thus promoting Sri Lankan Shafraz Junaid (Akhry Ameer) to third.
Veiby won three of the four stages on Day 3 and managed to reach within 18 minutes of Gill, after losing time due to technical issues on Day 2
Reflecting on his victory and the third APRC title, Gill said: "Obviously, I am extremely pleased to win such a hard-fought championship. My satisfaction lies in the fact that I beat my team-mate OC (Veiby) who is a WRC-2 driver and even won the round in Poland. More importantly, this victory is for Indian motorsport and it showed that India is capable of competing with the best talent in the world".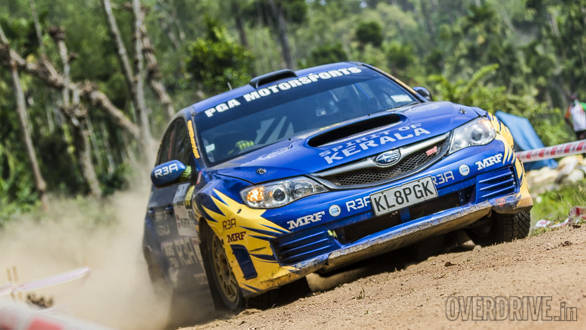 PG Abhilash had finished the third in the stages but failing to finish the transport stage in time cost him the podium
Speaking about his future goals Gill said, "I think I have done enough to show that I have the pace and ability to compete at the w-level as my first APRC title in 2013 was against my then team-mate Esapekka Lappi from Finland who today is a regular in the WRC with several wins. At the moment, I accept what is on offer without thinking too much about what is in store for me in my rallying career."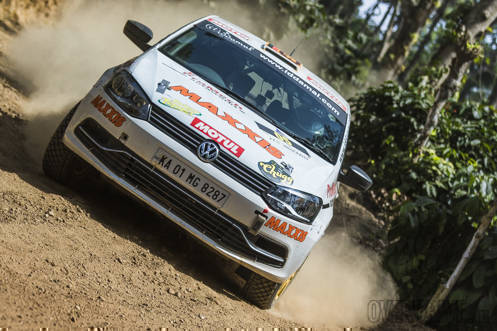 For APRC debutant Veiby, it was disappointing outing, but he said he benefitted by competing against Gill. "Yeah, for sure, I could have had better results on my debut in APRC this year. I had mechanical issues with my car in three of the five rounds. However, it was fun competing with Gaurav and I think I learnt a lot. Overall, it was a great experience, driving in different conditions, terrain and countries," said Veiby.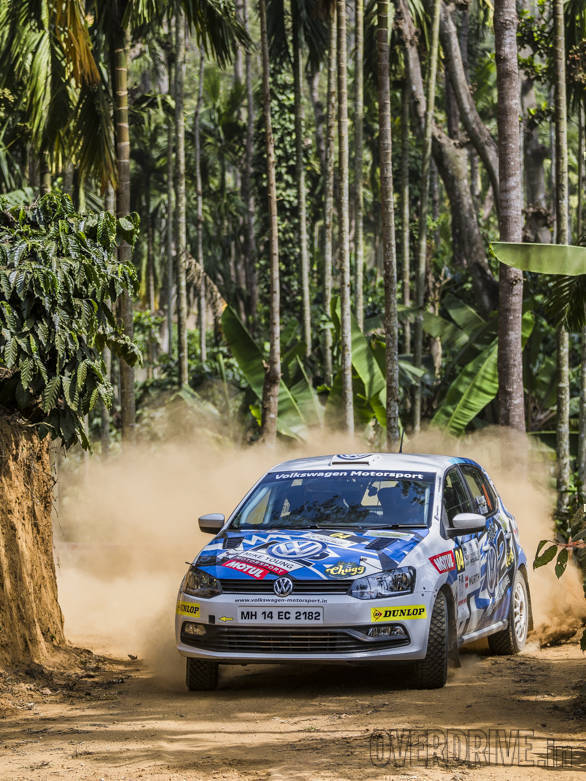 Action will pick up once again in the 2018 season of the APRC with the Rally of Whangarei in New Zealand, which is slated to be held on May 5 and 6, 2018.
Provisional results:
APRC: 1. Gaurav Gill / Stephane Prevot (Team MRF, Skoda Fabia R5) (03hrs, 20mins, 19.8secs); 2. Ole Christian Veiby / Stig Rune Skjarmoen (Team MRF, Skoda Fabia R5) (03:37:58.2); 3. Shafraz Junaid / Akhry Ameer (Volkswagen Polo) (04:10:17.4).
Images: Ishaan Bhataiya
Price (Ex-Delhi)
Starts Rs 6.17 Lakhs