APRC 2017: Gaurav Gill seals victory at Rally of Whangarei
Gaurav Gill claimed victory at the season-opening round of the 2017 Asia Pacific Rally Championship, the Rally of Whangarei, in New Zealand. The Indian driver, who is already a double APRC winner, had faced trouble during the second half of the Saturday, when trouble with the dampers on his Team MRF Skoda Fabia R5 cost him the lead in the rally. Gill and navigator Stephane Prevot were able to recover from this, and overturned their 33.2 second deficit in the rally, to take the win. This means that Gill has now got a streak of seven unbroken wins of seven rallies contested.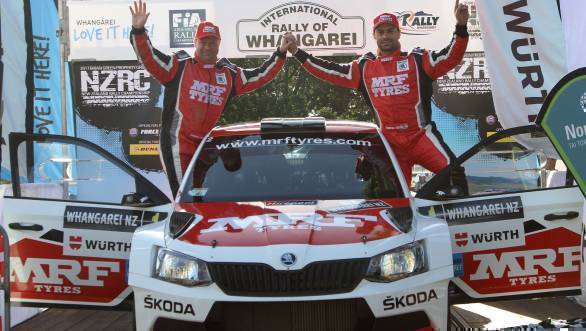 Gaurav Gill and Stephane Prevot celebrate their win at the Rally of Whangarei, the opening around of the 2017 APRC
During the Sunday, it was still Gill's team-mate, Ole Christian Veiby (navigated by Stig Rune Skaermoen) who led after the first set of Special Stages. But after service, a brake failure on his R5 meant he lost a lot of time - 1min 22.6sec. The Norwegian driver was then slapped with a time penalty of 1min 30sec for reporting nine minutes late to the next stage, which killed his hopes of a win.
This played nicely into the hands of reigning champion Gill. The Indian driver drove inch perfect and extended his lead over Veiby to 2min 0.28sec. The win was his third at New Zealand.
"Obviously, I am delighted by today's victory, but it would have been sweeter had OC (Ole Christian) stayed in the fight till the end, but his car had some issues. Anyway, that is the nature of motorsport. Importantly, I showed that I was on pace with a WRC-2 driver that OC is and for me, personally, it was a statement that I have the speed to compete at the highest level," Gill said.
Gill in action on the stages of the Rally of Whangarei
Gill went on to say that he loves a challenge, because it brings out the best in him, something that we certainly saw at the Rally of Whangarei. He also spoke of the tyres that he chose for the Sunday. "Although it rained a bit today, last night's showers had washed away much of the gravel. I used tyres with different grooving which again helped me to up my pace after we had sorted out the damper issue overnight that had cost me time yesterday."
His team-mate, Veiby, wasn't very happy though. "Like I said yesterday, though I was leading by 33 seconds, anything could happen. After service at the end of three Stages today, there was a hole in the brake tube in the rear and I lost lot of fluid, leading to brakes failure. It cost me a lot of time and I couldn't really make up the deficit over the last two Stages. Anyway, I take a few positives from my debut run in APRC. I have learnt a bit more about driving on gravel surface and hopefully, I can perform better in Canberra next month."
Third place in the APRC category was Swedish driver Robert Blomberg (co-driver Lars Andersson) of Mpart Sport in a Mitsubishi Mirage, some 17 minutes behind Gill.
APRC 2017 Round 1 Rally of Whangarei Results:
1. Gaurav Gill / Stephane Prevot Team MRF Tyres Skoda Fabia R5
(02hrs, 35mins, 06.8secs)
2. Ole Christian Veiby / Stig Rune Skjærmoen Team MRF Tyres Skoda Fabia R5 (02:37:09.6)
3. Roberter Blomberg / Lars Andersson Mpart Sport Mitsubishi Mirage (02:52:52.3).