APRC 2016: Team MRF Skoda's Fabian Kreim fastest during SSS at India Rally in Chikmagalur
Team MRF Skoda's strong performance at the APRC 2016 continued at the India Rally held at Chikmagalur. The team's German driver Fabian Kreim (Frank Christian) topped the timing sheets at the Super Special Stage held earlier today. The second-fastest timing during the SSS was set by his team-mate, newly-crowned APRC champion, Gaurav Gill (Glenn Macneall).
Team MRF Skoda's Fabian Kreim topped the timing sheet at the SSS at Chikmagalur
Kreim set a time of 2min 17.8sec over the 2.12km distance of the SSS held at the Amber Valley school grounds. Gill clocked a time of 2min 18.5sec.
Reigning APRC champion Gaurav Gill at the SSS at the India Rally
Also being held alongside the APRC is the MRF FMSCI Indian Rally Championship. Team Mahindra Adventure's Amittrajit Ghosh (Ashwin Naik) topped the IRC time-sheets, having clocked a time of 2min 37.9sec. Second in the category went to Arjun Rao Aroor (Satish Rajagopal) in their Volkswagen Polo R2. While Sunny Sidhu (Musa Sherif) were third-fastest, also in a Mahindra Adventure SuperXUV.
Team Mahindra Adventure's Amittrajit Ghosh on his way to topping the time-sheets in the MRF FMSCI IRC at the SSS
In the INRC 2000 class, Dean Mascarenhas (Shanmuga SN) topped the INRC 2000 class. Vikram Gowda (Uday Kumar KV) led the FMSCI Cup category. Topping the timing sheets in the IRC class was Sanjay Takale.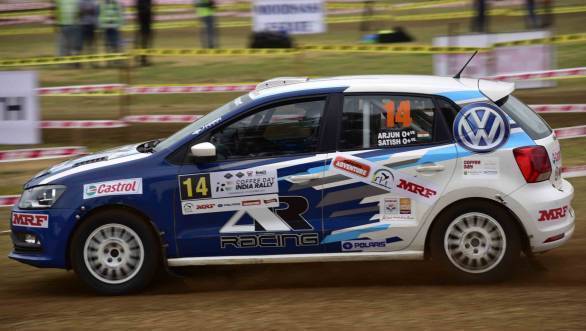 Arjun Rao Aroor in the VW Polo R2
The real action begins on Sunday morning, with the first of the Special Stages held in the coffee plantations at Chikmagalur. The stages are expected to be tricky and punishing on the cars, with Gill dubbing the event "the rally of a 1000 corners". The slowest rally of the APRC calendar, the event is expected to have speeds of around 70kph.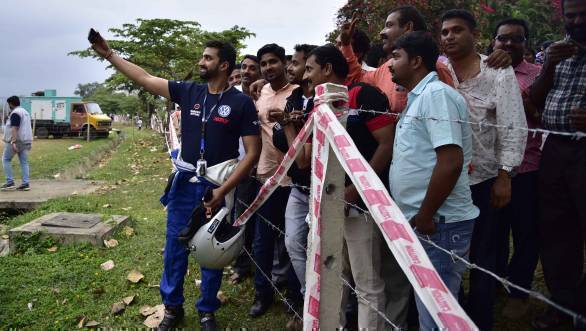 Rather popular here in Chikmagalur - Arjun Rao Aroor poses for a selfie with the fans
The results (provisional, Leg-1, Section-1):
APRC:
1. Fabian Kreim / Frank Christian (Team MRF) (02 mins, 17.8secs)
2.Gaurav Gill / Glenn Mcneall (Team MRF) (02:18.5)
3.Yuya Sumiyama / Takahiro Yasui (Cusco Racing) (02:23.4)
INRC Overall:
1.Amittrajit Ghosh / Ashwin Naik (Mahindra Adventure) 02:37.9
2. Arjun Rao / Satish Rajagopal (02:38.9)
3.Sunny Sidhu / Musa Sheriff (Mahindra Adventure) (02:40.0)
INRC 2000:
1.Dean Mascarenhas / Shanmuga SN (02:40.8)
2.Karna Kadur / Nikhil Pai (Yokohama 2K) (02:42.6)
3.Rahul Kanthraj / Vivek Bhatt (Yokohama 2K) (02:42.7)
FMSCI Cup:
1.Vikram Gowda / Uday Kumar KV (02:49.5)
2.Michu Ganapathy SC / Venu Ramesh Kumar (02:52.8)
3.Fabid Ahmer / Arjun Dheerendra (02:55.6).
IRC:
1. Sanjay Takale / Noriko Takeshita (02:28.0)
2. Younus Illyas / Nitin Jacob (02:42.8)
3. Ritesh Guttedar / Sheeraz Ahmed (02:45.4)
Gypsy Star (non-championship):
1.Sanjay Agarwal / Smitha N (02:59.6)
2.Avin Nanjappa / Suraj Setti (03:09.5)
3.Dheeraj KV / Ravi (03:15.7)
Price (Ex-Delhi)
Starts Rs 6.17 Lakhs