APRC 2016 India Rally: Gaurav Gill leads after Leg 1 in Chikmagalur
Team MRF Skoda's Gaurav Gill and Glenn Macneall at the Chandrapura stage of the APRC India Rally at Chikmagalur
Gaurav Gill ended the first leg of the 2016 Coffee Day India Rally in a commanding position. The Team MRF Skoda driver, who has already sealed his second Asia Pacific Rally Championship title, took a lead that couldn't be challenged over the coffee plantation stages at Chikmagalur. Gill, co-driven by Glenn Macneall, has an overnight lead of 7min 33.6sec at the event. Cusco Racing's Michael Young is second in the APRC. The Indian driver now has the luxury of driving a conservative rally over the remaining four stages to be run on Monday. If he does win the season finale, it will mean that he will have won the championship having finished overall first in every single APRC rally he has competed in in 2016.
Michael Young is second at the end of Leg 1 of the 2016 Chikmagalur Rally
It was tough stuff for Gill's team-mate Fabian Kreim who hit a rock and lost his wheel on the third stage of the day. Kreim's navigator Frank Christian paused on his way out the stage to tell us that the duo would restart the rally as per superally format on Leg 2. The recently crowned German Rally Champion will be hoping to finish the stages and gain some leg points.
Fabian Kreim's Skoda R5 being towed to the Service Park
In the Indian National Rally Championship, it was Team Mahindra Adventure's Amittrajit Ghosh and Ashwin Naik who led overall. Team Yokohama's Karna Kadur (navigated by Nikhil Pai) was second, although their hopes of a close battle were dashed. Kadur's Polo wouldn't start at the Service Park just ahead of check-in, earning him a time penalty that he might not be able to overcome tomorrow. Kadur, however, also finds himself in the lead of the INRC 2000 class. Third in the category is Dr Bikku Babu, co-driven by Milen George.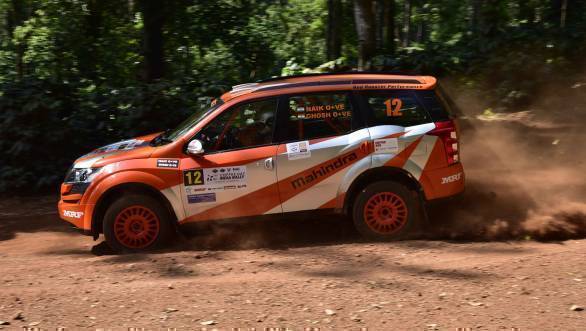 Amittrajit Ghosh and Ashwin Naik lead the INRC overall at the end of Leg 1 at Chikmagalur
Karna Kadur and Nikhil Pai were just seven seconds behind the INRC Leg 1 leaders, before disaster struck and they earned a penalty
The results (provisional, after Leg-1):
APRC:
1. Gaurav Gill / Glenn Macneall (Team MRF) (02hrs, 42mins, 32.8secs)
2. Mike Young / Malcolm Read (Cusco Racing) (02:50:06.4)
3. Sanjay Takale / Noriko Takeshita (Cusco Racing) (03:00:06.5)
INRC Overall:
1. Amittrajit Ghosh / Ashwin Naik (Mahindra Adventure) (01:19:34.6)
2. Karna Kadur / Nikhil Pai (Team Yokohama 2K) (01:19:42.2)
3. Dr Bikku Babu / Milen George (01:21:17.1)
INRC 2000:
1. Karna Kadur / Nikhil Pai (Team Yokohama 2K) (01:19:42.2)
2. Dr Bikku Babu / Milen George (01:21:17.1)
3. Philippos Mathaii / Harish KN (01:30:37.0)
FMSCI Cup:
1. Minchu Ganapathy / Venu Ramesh Kumar (01:26:34.4)
2. Jacob KJ / Manoj Mohanan (01:26:57.9)
3. Veeresh Prasad / Shahid Salman (01:28:44.2)
IRC:
1. Sanjay Takale / Noriko Takeshita (Cusco Racing) (01:12:08.1)
2. Amol Satoskar / Dr Dinesh (01:28:01.4)
3. Shafraz Junaid / Akhry Ameer (01:28:28.6)
Gypsy Star (non-championship):
1. Sanjay Agarwal /Smitha N (01:32:46.0)
2. Avin Nanjappa / Suraj Shetti (01:36:26.8)
3. Dheeraj KV / Ravi (01:46:39.5)