APRC 2014: Team MRF's Jan Kopecky wins Rally of Queensland
Success on his first time in an Australian rally came to European Rally Champion Jan Kopecky when he won the Asia Pacific Rally of Queensland in his MRF team Skoda Fabia S2000, but only after his teammate and reigning APRC champion Gaurav Gill crashed heavily off the road when his suspension failed on a bend. From that moment on, Kopecky drove a measured event maintaining a lead of just over a minute from the Australia driver Mark Pedder in a Renault Clio R3.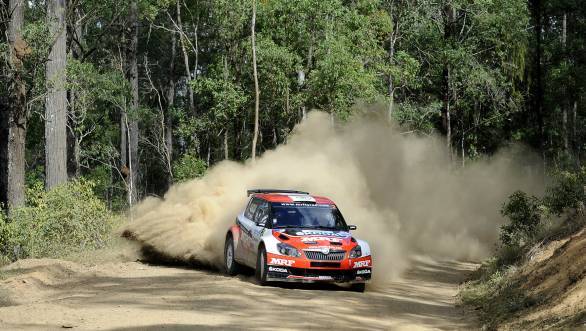 Kopecky now moves into the lead of the 2014 Asia Pacific Rally Championship
Kopecky's win was the second FIA regional championship rally victory on the same weekend. Kopecky had started the event equal on championship points with Gill, now Kopecky pulls well clear. A numerically stronger entry was received as the event also counted as a round of the Bullbars Australian Rally Championship, restricted to drivers of two-wheel drive cars, in which Pedder and third finisher Mazda 2 driver Brendan Reeves are active contenders. Second placed visiting driver was Chinese Jun Xu, gradually gaining confidence handling his Skoda Fabia S2000. Kopecky's only reported trouble was a damaged rear suspension.
Day 2 APRC retirements included fourth placed Matt van Tuinen also with suspension failure on his Subaru. Reeves continues to lead the Australian series. This event was run over forest roads in the Mary Valley area north of Brisbane. Next APRC event is in Malaysia in the middle of August, in completely different conditions to anything Kopecky has faced before.
International Rally of Queensland (Rd 3, FIA Asia Pacific Rally Championship)
1 J Kopecky (CZ)/P Dresler (CZ) Skoda Fabia S2000 Total time 2 hr 20 min. 9.1 sec.
2 S Pedder (AUS)/D Moscatt (AUS) Renault Clio R3 1 min. 9.3 sec. behind first
3 B Reeves (AUS)/R Gelsomino (AUS) Mazda2 +03:12.0
4 M Pedder (AUS)/C Dowling (AUS) Mitsubishi Lancer +06:10.9
5 J Xu (CN)/S Liu (CN) Skoda Fabia S2000 +07:41.7
6 T Wilde (AUS)/A McLoughlin (AUS) Renault Clio R3 +09:41.2
7 A Coppin (AUS)/T Batten (AUS) Citroen DS3 R3 +12:47.3
8 M Young (NZ)/M Read (NZ) Proton Satria Neo +19:03.9
9 S Takale (ND)/S Gregory (MY) Subaru Impreza +22:49.0
Retirements:
M van Tuinen (AUS)/E Kelly (AUS) Subaru Impreza (suspension)
A Masamura (JP)/A Nakagawa (JP) Mitsubishi Lancer (mechanical)
B Fullerton (AUS)/H Reardon-Smith (AUS) (mechanical)
G Gill (IND)/G Macneall (AUS) Skoda Fabia S2000 (off road)