Anindith Reddy wins Euro JK 16 races to keep championship hope alive
The final round of the 19th JK Tyre FMSCI National Racing Championship got underway at the Buddh International Circuit in Greater Noida. Races in the Euro JK 16,  LGB Formula 4 and JK Touring Car Classes, were quite action packed.
In the Euro JK 16 Class,  Anindith Reddy, Ananth Shanmugam and Nayan Chatterjee were locked in a three-way battle for the championship.  In the first race of the day,  Anindith made his intentions clear when he clinched the win, setting  a fastest time of 2min 1.829sec. He averaged 146.09kmph around the BIC. Ananth crossed the line in P2 followed by Nayan.
The second race in this class turned out to be a disaster for Ananth. Right before the lights went out,  Ananth's car suffered  a mechanical gremlin.  The clutch broke, causing his car to jump start.  He was handed  a drive-through penalty, which dented his hopes of winning the championship. Anindith Reddy capitalised on this and streaked away into the lead. Nayan Chatterjee, now in P2 tried hard to  catch Reddy, but the Hyderabad lad was in a class of his own. Ananth finished P8, but was surprised to know later on that he'd been promoted to the sixth position, since Akhil Rabindra and Krishnaraj Mahadik were disqualified for not possessing an Indian Racing License.
Ananth got a few additional points which means he is tied with Nayan Chatterjee at P2 in the Championship. Reddy, with 96 points in the bag,  leads the duo by 9 points. There are two races to go and he is aware that  Shanmugam and Chatterjee will not go down without  a fight.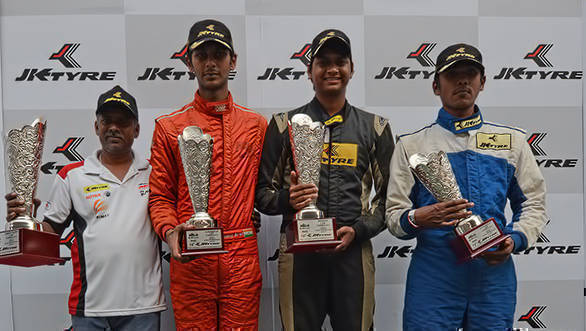 The LGB Formula 4 Races were won by championship leader Vishnu Prasad. The Chennai lad put up an impressive performance, despite coming under pressure from Raghul Rangaswamy. At the finish line,  the duo were separated by  mere hundredths of a second. "I have tried everything to get past him, but Vishnu somehow manages to stay in the lead",  said Rangaswamy at the end of the second Race. Vishnu Prasad has managed to build a 19-point lead over Raghul in the championship.  While it is a comfortable lead,  there are two races to go and Vishnu will be cautious.
The JK Touring Car Race was equally thrilling as Deepak Paul Chinnappa took  a stunning victory.  Throughout the Eight Lap Race, Chinnappa kept putting up consistent laptimes, and  his fastest lap was clocked 2 min 25.101sec. To give you some perspective, second-placed driver,  Rajaram C's fastest lap was 2 min 28.814sec.  M Sivaramakrishnan finished third. Championship winner Ashish Ramaswamy had a terrible outing,  as his car stalled a few laps before the chequered flag.
The JK SBK 600cc Superbike race was a thrilling affair,  and it was treat to watch the racers in action. Gurvinder Singh emerged victorious at the end of the 8-lap race clocking a fastest time of 2min 04.574sec.
In the JK SBK 1000 cc Class, Gurvinder's son Simranjeet Singh won the race.  Pole-sitter Rajini Krishan led the race for three laps before a mechanical glitch forced him to retire his Kawasaki Ninja ZX10R.
Simranjeet  aboard his Yamaha YZF - R1,  made the most of this and started pulling away from Sandesh P,  who was also on the same bike. Dilip Rogger crossed the line in P3.
Related Stories