Ameo Cup 2018: Dhruv Mohite strengthens championship lead
The third round of the Ameo Cup also saw some good racing over the weekend. Qualifying on Friday saw Dhruv Mohite notch up another pole position. Saurav Bandyopadhyay lined up alongside him in the front row.
In the first Ameo Cup race on Saturday, Mohite continued his good run from the earlier round here as well, leading the outing from start to finish quite comfortably. Lower down the grid, positions two, three and four saw some close races for the first few laps, before Saurav got ahead.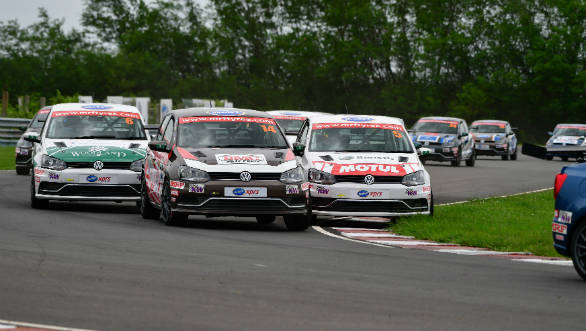 Saurav Bandyopadhyay(#14), Jeet Jhabakh(#5) and Anmol Singh (#6) slugging it out
Two Ameo Cup races were held on Sunday. The second race started in a reverse grid order for the first eight positions. Guest Driver Ameya Dandekar started on the pole for this but was quickly overtaken by Shubhomay Ball. Affan Sadat from Bangladesh soon managed to grab the second spot and the two had an incident-free run from then on. There was a lot of fighting for the positions behind them among most of the front-runners but Dhruv Mohite emerged in third place by the time the race ended.
The third and final race for the round was relatively uneventful. Dhruv Mohite led the race from start to finish with his close opponent on many occasions, Saurav Bandyopadhyay coming in second. Shubhomoy Ball carried on his good run from the previous race to round off the podium.
Winner of the race Dhruv Mohite(#19)
At the end of the penultimate round of the championship, Dhruv Mohite remains comfortably in the driver's seat of the championship. This also marked the end of the Chennai leg of the championship, as the championship now moves to the Buddh International Circuit for the finale