All-new Ducati Panigale V4: From factory to you
Sourcing
Look carefully in the middle of this picture and you can see how the Front Frame mounts to the new Ducati Desmosedici Stradale V4
Ducati says it sources 90 per cent of its components from other suppliers. In that sense, whether its the mother plant in Bologna, or the assembly plants in Brazil and Thailand, they're all engaged primarily in an assembly operation.
The process begins at what they call the parts supermarket where all components arrive. The first step is to make the sub-assemblies. For example, the variable intake manifold is assembled here before it reaches engine assembly.
Machining
The crankshafts, for example, arrive raw and are machined into their final shapes at Ducati. Then begins a series of quality checks, both on each component as well as random samples. A QR code is lasered onto each crankshaft. Each crankshaft is slightly different from the other one and the QR code identifies the difference. So that precisely the right con rods, bearings and
so forth can be added so that the final balance is as exact as possible.
Engine assembly
Ducati can make 32 V4 engines at a time, taking three hours each. But in the early days - like in the pics - workers proceed slowly so that production process can be refined. For the V4 line, a number of new machines tighten crucial bolts and apply sealants to ensure the highest level of quality possible.
More checks
The complete engine is given a leak down test before it heads to twin electric-powered run-up checks at 1,500 and 2,500rpm to ensure the engine runs right before it goes to the vehicle assembly line.
Final assembly line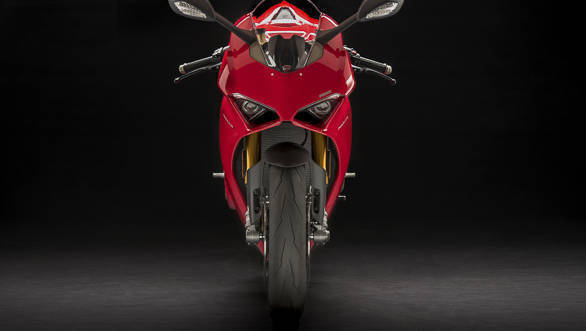 The final assembly lines are flexible - in these pics, Hypermotards and Panigale V4s are being made. The first assemblies are added to the engine mounted on a static platform. After the swingarm, chain, Front Frame, forks and wheels are added, the platform goes into the moving vehicle assembly line.
Dyno and final quality test
The Panigale V4 is now wheeled into a dyno where engine, ABS and traction control systems are checked. Then the V4s go into an inspection bay where a quality worker thoroughly checks each bike, now with bodywork.
Random quality check
A secondary bay is where quality control randomly selects bikes to run a set of final checks to ensure that production quality
is consistent.
Off to you!
With new machines, Ducati stocks the bikes for 40 days so that any issues discovered during the stabilisation of production can be sorted out so that all the final motorcycles are exactly the same before shipping.
Also read,
All-new Ducati Panigale V4: How it was made?
All-new Ducati Panigale V4: What's inside?
Price (Ex-Delhi)
Starts Rs 15,30,000
Price (Ex-Delhi)
Starts Rs 23,50,000