All-electric Ford Mustang Cobra Jet 1400 prototype dragster showcased, makes 1,400PS
Ford Performance, the Ford Motor Company's high-performance arm, has taken the wraps off a new Ford Mustang Cobra Jet. The Cobra Jet name draws from a long history of Mustangs specifically developed for drag racing which dates back to the 1960s.
But unlike any of those previous version, the CobraJet 1400 prototype is all-electric. Ford Performance claims that this EV dragster will put out over 1,400PS and 1491 Nm in final spec. This should let it complete the quarter mile in the low eight seconds range and reach over 274 kmph in that distance. More details on the powertrain isn't avaialble yet but Ford Performance has tied up with a number of specialist suppliers for this project.
MLe Racecars has been tied up as a vehicle builder, designer, integrator and tuner. Chassis support and development and the roll cage has been built by Watson Engineering. Software and motor calibration and controls have been done with the assistance of AEM EV while the invertor and motor has been supplied by Cascadia.
The Ford Mustang Cobra Jet 1400 will debut later this year at a drag racing event where fans, prior to which Ford Performance will continue to test the prototype.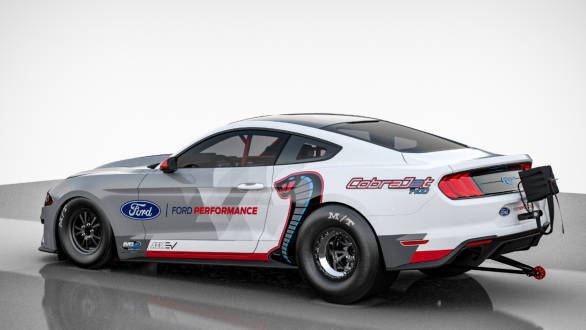 Visible in these photos are the Cobra Jet livery, the wide, high-profile drag liks at the rear and the narrow front tyres, a full roll-cage in the interiors and a lowered stance.
Dave Pericak, global director of Ford Icons said of this project,  "Electric powertrains give us a completely new kind of performance and the all-electric Cobra Jet 1400 is one example of pushing new technology to the absolute limit. We're excited to showcase what's possible in an exciting year when we also have the all-electric Mustang Mach-E joining the Mustang family."
Price (Ex-Delhi)
Starts Rs 74.62 Lakhs