Alfa Romeo Stelvio Quadrifoglio is now fastest SUV around Nurburgring circuit
Just yesterday, we'd told you about how the Porsche 911 GT2 RS smashed the Nurburgring lap record for the fastest production car. Well today, its Alfa Romeo's turn, except, they did it in an SUV – the Stelvio Quadrifoglio. The Alfa Romeo Stelvio Quadrifoglio managed to set a time of 7min 51.7sec, beating the previous record, held by the Porsche Cayenne Turbo, by around eight seconds. The SUV was driven by Fabio Francia, the same person who set the Nurburgring record for four-door saloons in the Giulia Quadrifoglio, with a lap time of 7min 32sec.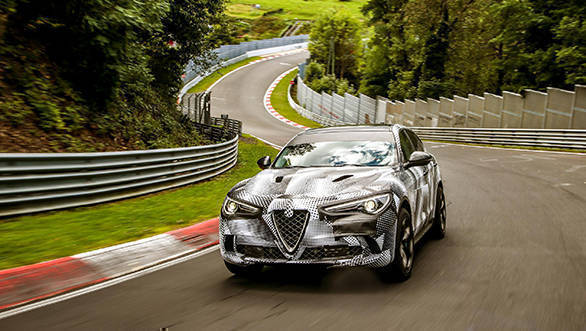 The Alfa Romeo Stelvio Quadrifoglio is powered by a 2.9-litre twin-turbo V6 producing 510PS and 600Nm
One of the Alfa Romeo Stelvio Quadrifoglio's biggest strongholds is supposedly its excellent power-to-weight ratio and 50:50 weight distribution. This was achieved thanks to the extensive use of lightweight materials for components like a carbon-fibre driveshaft. Powering the SUV is an all-aluminium, direct-injection 2.9-litre 24-valve twin-turbo V6 which produces 510PS and 600Nm. It also features an all-wheel drive system and an 8-speed automatic transmission "with specific settings for shifting in just 150 milliseconds in Race mode." The 90-degree V layout of the engine was specifically designed for a low centre of gravity, while a torque vectoring differential, adaptive suspension and cylinder deactivation are also part of the Alfa Romeo Stelvio Quadrifoglio package.
Price (Ex-Delhi)
Starts Rs 1.38 Crore
Price (Ex-Delhi)
Starts Rs 1.19 Crore
Related Stories