Aishwarya Pissay to be part of Sherco TVS Rally Factory squad at 2018 Baja Aragon
The Sherco TVS Rally Factory Team has announced that Aishwarya Pissay will be a part of the four-rider team who will compete in the 2018 Baja Aragon. The rally will be held between July 20th and July 22nd in Teruel, Spain. Including Pissay, the four-member team comprises riders Adrien Metge, Michael Metge and Lorenzo Santolino. Aishwarya will be the first Indian woman factory racer to compete in a Baja World Rally and will be leaving to Spain later this week to train with the team. The squad will race on the Sherco TVS Rally Factory Team's Dakar machine – RTR 450.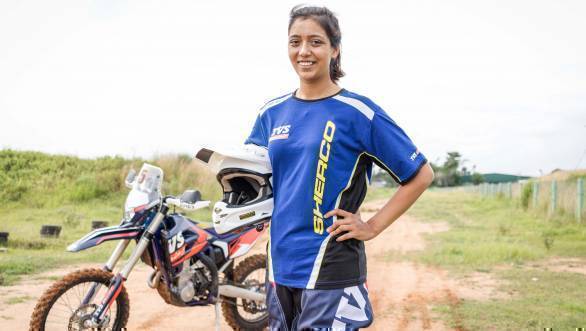 Aishwarya Pissay will compete in the 2018 Baja Aragon with the Sherco TVS Factory Rally Team
Given that this is her first international rally, Aishwarya says that she's both overwhelmed and grateful to TVS Racing. "The Baja Aragon is a good training ground for any racer who has their sights set on the Dakar, as it tests their mettle among international talent. I am excited to race alongside experienced International Champions from the Sherco TVS Rally Factory Team. The prospect of finally experiencing the RTR 450 is daunting but I look forward to packing time on the motorcycle and perfecting my technique," she said.
Aishwarya Pissay flanked by TVS Racing team manager B Selvaraj (left) and Sherco boss Marc Teisseier (right)
Commenting on the team's participation, B. Selvaraj, Team Manager, TVS Racing, said, "We are thrilled to be a part of the 35th edition of Baja Aragon and Aishwarya's participation makes it special, as she will be the first Indian woman to participate in a Baja World Rally. What makes this even more exciting is that this is a new team that we are fielding for the Rally and it will be interesting to see how the dynamics play out. Our technical team is also working around the clock on the performance of the bikes and I wish the team the very best for the Rally."
Also joining the team is Michael Metge, who has plenty of off-road experience under his belt
Among Aishwarya's many accomplishments, she has managed to finish fourth in class at the 2017 Raid de Himalaya, as well as winning the lady's class of the event. She has also won the lady's class in the Dakshin Dare 2017 and the Indian National Rally Championship (INRC) 2017, as well as won the TVS Apache Ladies One Make Championship 2017.
If you have questions for Aishwarya, she will be doing a live interview on Instagram with Team OD at 20:30 IST today, (that is Friday, 13th July, 2018). Tune into @ODmag on Instagram and fire your questions off, and we'll try and get her to answer them.