After XRE 300 and Rebel 300, Honda X-ADV moto scooter patented in India
HMSI has already confirmed launching an all-new two wheeler in India. While there are speculations ranging from it to be a premium offering to something that will be offered in the commuter space, there is a new development. As reported by RushLane, HMSI has patented the X-ADV in India. The Honda X-ADV is a scooter that can be ridden both on and off-road and was showcased at the 2016 EICMA show.
Designed by Honda's Italian R&D department, the X-ADV certainly looks the part. Styling is rugged and there's a fair amount of ground clearance too. There's a five-step adjustable screen above the front apron to protect from wind-blast. The aluminium handlebars are set at 910mm and there are hand guards placed ahead of the grips. Beneath the seat (at a height of 820mm) is 21-litres of storage space that Honda claims can hold a full size enduro helmet.
The Honda X-ADV scooter gets a 745cc engine that produces 53.6PS and is mated to Honda's DCT automatic transmission. There are two automatic riding modes D and S. Within the S mode are three additional levels that help adjust the power output depending on the rider's preference. There's an MT mode too that allows full manual operation of the transmission. Shumi has already ridden the Honda X-ADV and here are his initial impressions.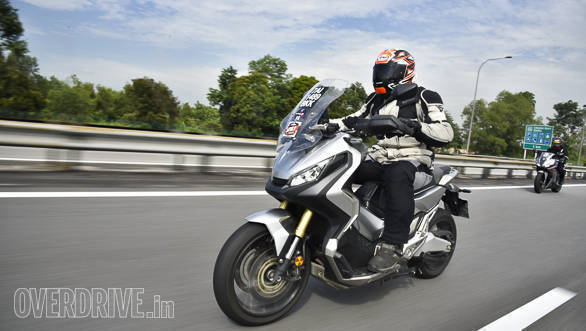 Patenting a design is a common procedure carried out by various manufacturers. By definition, it is a licence conferring a right or title for a set period, especially the sole right to exclude others from making, using, or selling an invention. What this basically means that the design or other elements of a particular model cannot be replicated by any other manufacturer. It need not necessarily mean that the particular product that has been patented will be launched in the country as well.
17YM X-ADV
Honda had already patented the Rebel 300 cruiser as well as the XRE300 that was primarily for the Brazil market and was the replacement of the company's two on/off-road offerings - the XR250 Tornado and the NX4 Falcon. Coming to the Honda X-ADV. If Honda does plan to bring it to India, we believe, the X-ADV will be priced in the range of Rs 10 lakh, ex-showroom. Will you be willing to pay that hefty premium for an adventure scooter? Let us know in the comment section below.
Transmission
Automatic 6-Speed
Related Stories