Advertorial: Kenwood launches flagship infotainment system in India at Rs 64,990
In car infotainment systems have been gaining popularity with car manufacturers offering more options than the usual entertainment bit. These systems have become an important part of the car and in some cases even a decision making factor for the prospective customers. Recently, Kenwood revealed its premium flagship offering the DDX9016S which caters to the premium offerings and is priced at Rs 64,990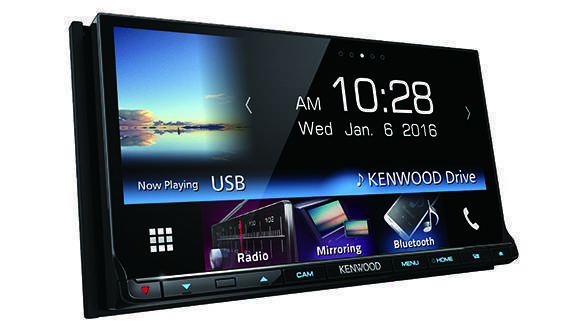 The double DIN system has an 7-inch high definition wide capacitive touch panel with a bright, high contrast and clear display that offers large fonts and icons for instant attention. It also comes equipped with Air Mirroring, Android Auto (for android phone users), Apple Car Play (for iPhone users), alongside a built in DVD,USB, Aux-in, FM Player . Air Mirroring, is a Kenwood exclusive feature, helps streaming content from the mobile device and displaying it wirelessly on the multimedia screen. This unique feature is for those who do not like cables floating around in the car and getting tangles. Users can stream music, photos, videos, emails, games etc from the mobile phone to the car infotainment system.
The Android Auto feature enables users to access the existing android apps on the multimedia screen. Users can manage calls, listen and reply to messages and whatsapp, access google maps and listen to the smartphones music with just one tap on the screen. Android auto pairs with the car's Bluetooth system automatically as soon as the phone is plugged in with the help of a USB cable skipping the cumbersome pairing process necessary for making calls and some other essential features.
Similarly, with Apple CarPlay, the users can sync their Apple device to the vehicle's infotainment system and access information such as music, navigation, calls, messages, etc, while on the go. With the help of voice commands to Siri voice, users can use functions such as texting, making a call or selecting music.
"Over the last few years, advancement in automotive electronics and wireless technologies combined with changing lifestyle has made a profound impact in consumer preference from a basic driving experience to latest infotainment solutions. For many car enthusiasts nowadays, their car's infotainment system is as important as their performance on the road. Kenwood DDX9016S fulfills that aspiration. The DDX9016S offers everything car enthusiasts need and much more, including the latest wireless connectivity, user friendly interface, the ability to play a variety of media files and access to the most up-to-date information and entertainment on-the-go," said Dhiraj Chawla, AGM Sales, Nippon Audiotronix P Ltd which has the exclusive distribution rights for Kenwood Products in India.