Aditya Patel to compete in Blancpain GT Series Asia in 2017
We'd earlier reported that Aditya Patel was likely to compete in the Blancpain GT Series Asia championship in 2017. We are now able to confirm that the Indian driver will indeed be driving in that very championship. Patel will drive the Audi R8 LMS GT3 for the ODRacing Team, partnering driver Mitch Gilbert. This comes after two years of racing the Audi R8 LMS in the Audi R8 LMS Cup Asia series.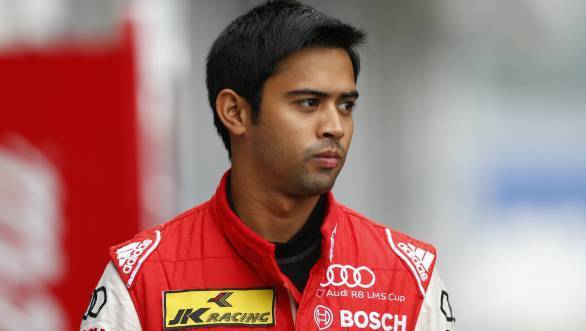 Aditya Patel will compete in the 2017 Blancpain GT Series Asia
The Blancpain GT Series Asia sees the already well-established championship - the Blancpain GT Series - make its foray into Asia. The championship is set to see top manufacturers compete in it. In addition to Audi, other marque's like Porsche, Lamborghini, Ferrari, Mercedes, BMW, Aston Martin and McLaren have already signed up to be a part of the Asian series.
The 2017 Blancpain GT Series Asia will be held over 6 race weekends and will feature 12 races. The season starts in Sepang, Malaysia in April, followed by a race at the Chang International Circuit, Thailand in May. Then Japan's Suzuka and Fuji circuits make it to the calendar in June and August. While the last two race weekends will be held in China - at Shanghai and Zheijiang - in September and October.
Aditya Patel and ODRacing team-mate Mitch Gilbert with their Audi R8 LMS GT3
The Asian counterpart of the Blancpain GT Series will also be run in the same format as the European championship, with two drivers sharing a car. The combination of Malaysian-born Australian driver Mitch Gilbert and Patel are expected to be strong team. Between the two of them, they have a combined total of 20 years of race experience.
Speaking of the upcoming season of racing Patel said, "I would like to thank Audi India for giving me this opportunity and for their unwavering support over the past five years. The Blancpain GT Series is one of the world's premier racing championships and I am really looking forward to being a part of it. My teammate, Mitch Gilbert, has proved his speed in various championships in the past as well. While the competition will be tough, I have no doubt that together, we will achieve great results this year."
Meanwhile, Rahil Ansari, head, Audi India said, "Aditya has shown remarkable performances in previous years and we wish him a great racing season at Blancpain GT Series Asia this year with the indomitable Audi R8 LMS. We are confident that with successful exploits of Aditya and other Indian racing talents, motorsports will get a tremendous boost in India as well,"
Price (Ex-Delhi)
Starts Rs 2.55 Crore