Aditya Patel ends Blancpain GT Series Asia campaign with double win
The inaugural Blancpain GT Series Asia season witnessed a close battle for the championship title. Going into the season finale at Zheijiang, Indian racer Aditya Patel and OD Racing team-mate Mitch Gilbert were in with a chance for the championship title, trailing the leaders by 15 points. Over the course of the weekend their aim was then to win both races, and hopefully claim the championship too.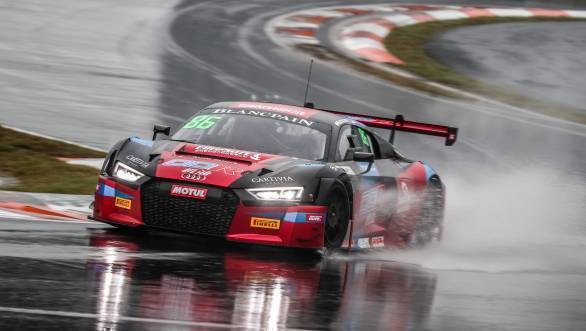 Aditya Patel and Mitch Gilbert of OD Racing took a double win at the Zheijiang season finale of the 2017 Blancpain GT Series Asia
The weekend got off to a good start for the duo, with Patel qualifying in second place for Race 1, while Gilbert qualified on pole for Race 2.
The first race began behind the Safety Car, and once the track went green, Aditya found himself under attack. However, he not only defended his second-place, he also managed to move into the lead of the race. When he handed the car over to his team-mate, Gilbert held the lead, and ultimately crossed the chequered flag 5.6 seconds ahead of the second-placed driver. The victory meant that the pair had managed to keep their championship hopes alive.
Patel and Gilbert on the top step of the podium, celebrating their victory
The second race would be crucial in deciding whether or not the championship would be theirs. During the early stages of the second race, an error from Gilbert meant that the race lead went to Martin Rump. Which meant that when it was time for the driver change, OD Racing was in second place. However, when Patel got behind the wheel and went out on track, it was Rick Yoon, Rump's team-mate who was ahead of him. When Yoon made an error and spun, it was advantage Patel. The Indian driver went on to cross the chequered flag first.
The double win meant that Patel and Gilbert became the first duo to have two race wins in a single weekend in the Blancpain GTA championship. However, the attention was on Hunter Abbott of Gruppe M Racing in a Mercedes AMG GT3. Abbott crossed the chequered flag in fourth position, which was enough to give him the championship title. That too by one single point. Despite narrowly losing out on the championship, Patel was pleased with the double win, and the knowledge that they had done all that they could do over the course of the weekend. The driver now looks forward to a strong 2018 season of motorsport.