8 things you should know about Triumph 250
It is likely to be called the Cub, and it is, according to the world's media, Triumph's shortly to be revealed way to stay relevant in a changed world. A world that is increasingly looking past big, fast and expensive motorcycles to more realistic motorcycles that offer thrills, real world fun and all that without costing the earth. Having read a number of speculative stories on the nature of this new Triumph, we decided it was time to demystify.
Triumph
1. Is it a 250cc motorcycle at all?
The real answer is who knows? Except for the people at Triumph, this question cannot be answered accurately. The spy shots doing the rounds suggest a small displacement motorcycle (by international standards) and that means anything from a 250 to a 350 is a possibility. In the older days, when racing classes influenced displacement selection for a new model quite strongly, displacements were relatively easy to predict but no more.
What we expect is that if Triumph, as reported, intends to make the motorcycle in a market like India, as in local manufacturing, then 250cc sounds like a good place to begin. It means a motorcycle that can be priced in the Rs 2-2.5 lakh region, a price that will make it easy to sell in the growing premium motorcycle market. A 350, in logistics or engineering terms, is not more complicated, but it will cost roughly Rs 75,000 to Rs 1 lakh more, which puts it in a more rarefied atmosphere. This isn't unviable by definition but immediately paints a picture of significantly lower volume for the forthcoming years.
What makes sense is that Triumph will build their new bike as a platform with room to grow. Which means the initial motorcycle being a 250 doesn't automatically preclude a larger cousin a year or two later. Neither does the first bike resembling the Street Triple automatically preclude the possibility of a mini-Daytona.
This sketch of the upcoming Triumph 250 was shown at EICMA 2013
Update: Since I wrote this story, Triumph went and confirmed some of our guesses at the EICMA motor show. And some of our guesses were just that, guesses. The new Triumph will be a 250 and it will, like we said, be manufactured in India out of the new Narsapura plant in Karnataka. We had guessed that the launch would be ready by festive season 2014, but Triumph say the bike is slotted as a 2015 model, which means we could still be right, but the launch could easily be as late as March 2015. The sketch that Triumph has showed, though, is of a faired mini-Daytona rather than a mini-Street Triple, it appeared first at oliepeil.nl.
2. It is a naked though...
The first bike to come off the platform is going to be a naked. All the press shots as well as the initial sketches that were floating around point to the naked as a starting point. This also makes sense because off the platform, that naked bike will be the cheapest to build and sell.
Sort of like the Duke family evolution, we expect Triumph to offer a faired version as well as possibly a mini-Tiger. Given the popularity and utility of the adventure-tourer format of motorcycles, we would bet that Triumph will not ignore that segment.
3. Then we will get a Royal Enfield rivalling mini-Bonnie as well?
The mini-Bonnie, though, is a question mark. Riders in India have shown far more interest in new bikes than old, and I suspect, to be honest, that a mini-Bonnie might sound like a great idea, but it will not be as successful as its platform mates.
The only exception is the Royal Enfield line of motorcycles. Triumph is one of the few brands in the world with the cachet and history to go into and make a space for themselves in Royal Enfield's dominion. But will they? I suspect that eventually their paths may cross, but it will not be Triumph's immediate priority. Besides, in the foreseeable future, the Indian market should have the bandwidth for many brands to thrive without killing each other off.
4. What do know about the engine and powertrain
The spyshots clearly show a small, simple looking motorcycle with a water-cooled engine. The gearbox is going to be a regular 6-speed job in our estimation. Final drive is chain, obviously. I expect to see a power figure in the 20-25PS range. The range is pretty large but it has to be at this point for a couple of reasons. First, Triumph has not spoken or confirm this motorcycle so far which makes a more precise estimate impossible. Second, and more important, 20PS is what you will get from a 250 if you tune it for good torque (very likely) and 25PS if you tune it more to be a revvy motorcycle with a big top-end and an acceptable bottom or mid-range performance character.
5. And the frame?
If Triumph is to sell this motorcycle in India and make money, it has to be a steel frame. The spy shots show a basic frame with a backbone over the engine from which two downtubes reach down and offer engine mounting points, one on each side of the exhaust. While not a trellis like the KTM, the format is similar in nature to the KTM Duke with no frame tubes under the engine and the engine being used as a part of the chassis for stiffness and rigidity. The suspension, similarly, is simple. The front forks are right side up forks wearing a single disc with a two-piston caliper. The rear is a monoshock setup and is also equipped with a disc brake.
But don't make the common mistake of equating a basic frame setup with intermediate or basic chassis ability. Triumph have shown themselves to be extremely fluent with chassis development and we believe that the Triumph Cub 250 will be a brilliant, fun-to-ride motorcycle to reckon with.
6. It is the Cub, is it?
That was the name that it began with and we think it is an apt name for the bike. The original Triumph Cub was one of the company's famous single cylinder motorcycles.
The first single cylinder Triumph to come out after the second world war was the Triumph Terrier. It used a 150cc single and for a tiny engine like this, it had an incredible amount of pep. The Terrier later made way for the Tiger Cub. The Tiger Cub (or the Cub) and the Terrier were designed with one thing in mind – to be the stepping stone to the bigger twin-cylinder Triumphs. From 1953 to 1969, over a lakh units of the 200cc Cub was sold.
The single cylinder Triumphs were all very well known for the kind of performance they could deliver from such a small capacity engine. The later Cubs made close to 14PS of power and were capable of doing speeds upwards of 110kmph. The peppy engine and the minimalistic design made them very quick off the line. But in this very minimalistic design lay its biggest flaw.
The Cub and Terrier were both built by Edward Turner (previously with Ariel). Turner firmly believed in the philosophy of making "the minimum amount of metal perform the maximum amount of duty". This meant that all the mechanical components of the little Triumphs were under a lot of stress. This is why, a lot of the owners had complaints that if you weren't really careful with your Triumph singles, they would break. And since most of the riders who bought the Cub and the Terrier were only learning to ride motorcycles at the time, the chances of them breaking it were only higher.
Over the years, Triumph did do a lot of R&D into the Cub's fault and managed to iron them out. But by the time they had made a perfectly good motorcycle out of the Cub, they surprisingly decided to stop making it.
Given this history, it is likely that the motorcycle will be called the Cub. The full name, Tiger Cub will not be used. Tiger has become Triumph's go-to brand name for its on-off road motorcycles over the past few years and I suspect it will not be a smart choice to go full nostalgic call this the Triumph Tiger Cub 250.
7. Is it going to be made in India?
If Triumph is to price this right, it has to be manufactured here. Triumph has a plant in Manesar right now and currently refuses to talk about the Narsapura plant in Karnataka. That is interesting because they never deny the existence of the plant, just refuse to discuss it. What I suspect will happen is that that plant will become the location for the manufacturing of the Cub.
This is an easy connection to make. You see, manufacturing a motorcycle locally means a lot of Indian or India-based vendors have to be ready to supply kit and bits. It also means that the layout and setup of the factory has to be more complex. Which in turn implies a big investment and that in turn (phew) means that the products this facility rolls out have to sell in large enough numbers to ensure that this investment is recovered in time. So unless the Manesar plant is either capable of tremendous expansion or indeed, in the process of tremendous expansion, a new factory will be needed.
Assembling a handful of motorcycles is relatively easy to do. I visited the Kawasaki assembly facility within the Bajaj Auto Akurdi plant recently while picking up the Ninja ZX-10R for our first ride story. Given the relatively small volumes of Ninja 650s and 300s being assembled, the whole operation, including the engine assembly, vehicle assembly and dyno might have covered only an area of 2500 square feet (my estimate) plus space for storage of parts, CBU motorcycle crates and of course, expansion. A plant of this size and capability is relatively easy to setup and start assembly operations out of.
But when you're talking about volumes like 500 units a month, this kind of a plant can no longer handle the complexity. And in a rapidly growing market like ours, where the premium segment growth is in double digits, it has to be handle as much as 10, maybe 20 per cent extra production every month. Plus the extra seasonal loads, like before the festive season. All this will require a plant with more production capability than the Manesar plant.
So the upshot is that yes, the bike will be made in India. A full-fledged plant like the one I think Triumph is building at Narsapura but refuses to reveal any details of should take about 18 months to build at the very outside. Royal Enfield built their new plant at Oragadam, outside Chennai in roughly 13-14 months. This plant will build 1.75 lakh units at the moment and 2.5 lakh units at the end of 2014. That is about 15,000 units a month.
I believe Triumph will start smaller so even if they were to start building their plant today, they should be able to roll-0ut and Indian made Cub by the festive season next year.
8. But when are they coming to India?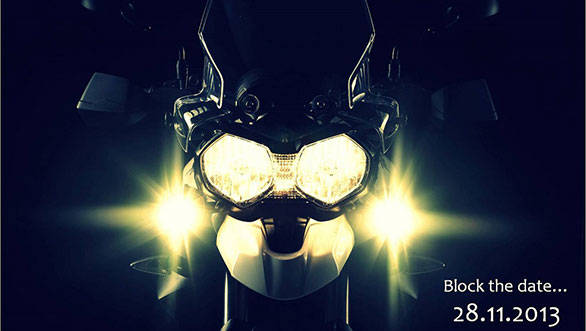 Triumph India official announcement
Triumph has just sent us a save the date notice for November 28, 2013. That is the day we expect to see as much detail as the British company is willing to reveal about their India plans. We expect the India launch announcement only make a passing mention of the India-made motorcycle while offering more details on Indian dealers, and the sales and pricing of the CBU and Indian-assembled (out of Manesar plant) motorcycles.
Price (Ex-Delhi)
Starts Rs 12,15,800