710PS Nissan GT-R50, a precursor to the next-gen Nissan GT-R?
The Nissan GT-R is one of all time favourites among many car enthusiasts around the world. Apart from its performance, it is the design of the Nissan GT-R that makes it stand out when compared to its rivals. And now what you see in the images below might be a sneak peek of what the next-gen Nissan GT-R could look like. Italdesign and Nissan have combinely worked on a concept called the GT-R50 that does not only look distinct but makes 710PS of power.
The front of the Nissan GT-R50 gets a new grille that is an updated version of the Godzilla's traditional design that we have seen on the GT-R. While purists might like/dislike the new design, it surely looks distinct. The hood has a more pronounced power bulge, and the thin LED headlights stretch from the wheel arch to the lip above the outer cooling intakes. The roofline has been lowered by 54 millimeters and features a lower center section, while the slightly raised outer portions. It gets the signature GT-R samurai blade cooling outlets behind the front wheels.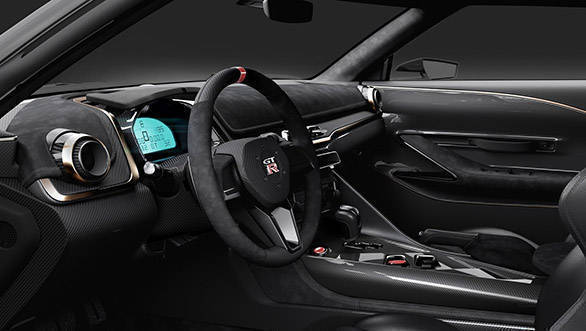 The shoulder line tapers around the base of the rear window and draws toward the center of the trunk lid. The rear highlights the car's wide track with taut, muscular flares around the wheels. The rear window line descends longer and deeper than on the regular model. The designers have retained the twin round tail lights, an important part of the GT-R's iconic design, but have been restyled with hin light rings and hollow centers. And lastly, the Nissan GT-R50 gets a large, adjustable rear wing, mounted on two uprights. The exterior is finished in Liquid Kinetic Gray paint with distinctive Energetic Sigma Gold anniversary accents.
Inside, the Nissan GT-R50 gets two different carbon fiber finishes that has been used across the center console, instrument panel and door linings, along with black Alcantara leather on the seats. The bespoke steering wheel's central hub and spokes are made of carbon fiber, while the rim features a flat bottom and matching Alcantara trim.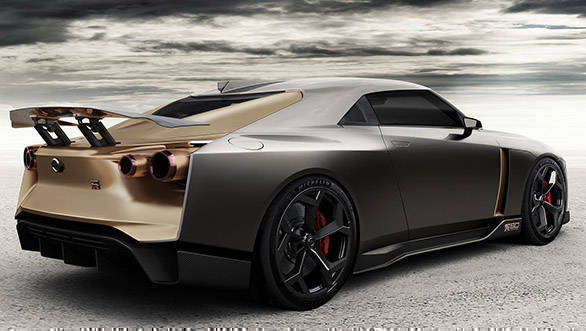 The Nissan GT-R50 comes with a hand-assembled 3.8-liter V6 VR38DETT engine to produce an estimated 720PS and 780Nm of torque. Additionally, it gets optimized twin high-flow, large-diameter GT3 competition-spec turbochargers and larger intercoolers; heavy-duty crankshaft, pistons, connecting rods and bearings, high-flow piston oil jets; revised camshaft profiles; higher-flow fuel injectors; and optimized ignition, intake and exhaust systems.
Price (Ex-Delhi)
Starts Rs 2.12 Crore