50 Tata Motor buses delivered to Bengaluru Metropolitan Transport Corpn.
Indian commercial major, Tata Motors recently delivered 50 buses to Bengaluru Metropolitan Transport Corporation. This delivery was a part of the larger order of 1385 buses bagged by Tata Motors earlier this year comprising of 350 Ultra 6/9 BS IV Midi and 1035 LPO 1512/55 BS IV buses. Present at the hand over ceremony were Transport Minister H.M.Revanna and Health and Family Welfare Minister K.R. Ramesh Kumar, along with officials from BMTC and Tata Motors.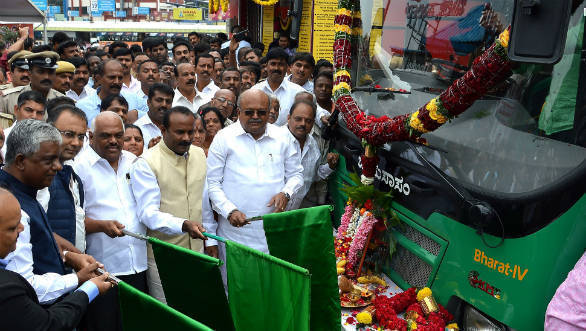 "With the successful delivery of 50 new buses, we at Tata Motors take great pride in our continued association with BMTC. The next generation fleet of connected buses introduced today reiterates our commitment towards delivering world-class mobility solutions to the smart cities of tomorrow. We will continue to partner with STUs across the country to enhance end user needs, which will further help boost our efforts towards innovations in the public transport space." commented Sandeep Kumar, head, sales and marketing - passenger, commercial vehicle business unit, Tata Motors.
the newly delivered Tata Motors' LPO 1512/55 BS IV buses to Bengaluru Metropolitan Transport Corporation
Tata Motors currently designs, develops and manufactures its buses in Pune, Dharwad, Pantnagar and Lucknow. Besides its partnership with ACGL of Goa for bus bodies, Tata Motors also has a joint venture with Marcopolo S.A. of Brazil, one of the largest bus body manufactures' in the world, for fully built bus (FBV) solutions. Tata Motors' approach of manufacturing FBVs (Fully Building Vehicles), meets the government's new norms in terms of safety, fuel efficiency, wider bus gangways, with the flexibility to be powered by both CNG and Diesel.