30 teams participate in Monsoon Run Rally 2014
The Monsoon Run Rally organised by the Motor Sports Association of East India and Calcutta Motor Sports Club was held from July 11-12. 30 teams participating in the event were flagged from Hotel De Sovrani at Salt Lake City, Kolkata.
The rally route began at the Dankuni Toll Plaza in Kolkata on the National Highway to Delhi and was dotted with a few historical sites. Among these were the abandoned World War II airstrips near  Bardhaman and Orgram  and special section of the route was named 'Paul's Terrain' in honour of Prasanta Paul. Passing through the mud roads of Pichkuri village, and the forests of Valki-Machan, terminating at 11 Mile on the Mourigram Road near Durgapur, the route proved to be challenging one for all of the 30 teams. It was a perfect ground for testing their prowess at the wheel and their ability to navigate through tough terrain under time constraints.
The 35 time controls or check points were inclusive of five GPS assisted ones, which proved to be the toughest sections as they required drivers to navigate through them without any visible time checks.
Amongst the 30 teams, 28 finished within the prescribed time limit. The event was conducted with the support of the West Bengal Police and the local people in the village areas the rally passed through.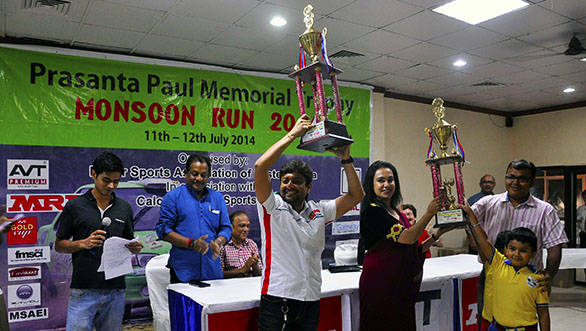 The recipients of the first prize or the Prasanta Paul Memorial Trophy were Subir Roy and navigator Arindam Ghosh, who scored a cash prize of Rs 30,000. Runners-up were Jogendra Kr. Jaiswal with navigator Amit Kr. Saha  and Anubhav De with navigator Chandan Sen. There was also a special prize for best performance in 'Paul's Terrain' which was bagged by Ashish Budhia from Jharkhand.