272PS Volkswagen Polo GTI R5 rally car showcased
Volkswagen has unveiled the sportier variant of the Polo GTI, called the Polo GTI R5. The all-new Volkswagen Polo GTI R5 rally car is based on the sixth generation Polo hatch that was showcased earlier this year. Volkswagen chose the driving presentation of the new Polo GTI as a platform to reveal the Polo GTI R5. The German car manufacturer will be making a limited production run of the Polo GTI rally car and intends to build on the success of its consecutive title wins up until 2016. The R5 in the name of the rally car stands for the R5 regulations for a new generation of rally cars, that were aimed mainly at customer teams, talented youngsters as well as individual participants.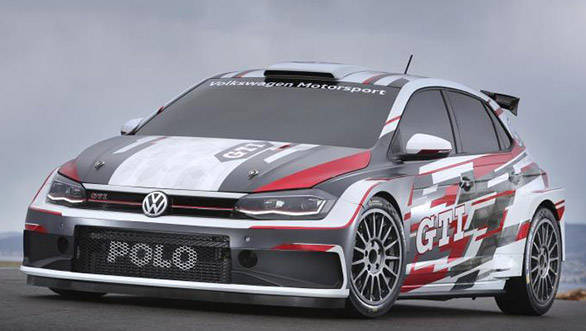 Similar to the regular Polo GTI, the Volkswagen Polo GTI R5 comes with a four-cylinder 1.6-litre turbo petrol unit that is mounted transversely ahead of the front axle. This unit puts out 272PS and generates 400Nm of torque. All that power and torque is sent to all four wheels with the help of a sequential, five-speed racing gearbox and permanent four-wheel drive. The Volkswagen Polo GTI R5 weighs 1,320kg and can reach 100kmph in a claimed 4.1seconds. Comparatively, the Polo GTI makes 200 PS, comes mated with a 6-speed DSG and can do a 0-100kmph in a claimed 6.7 seconds.
Volkswagen states the four-door body and the steel chassis that underpins the rally car will be manufactured at the company's plant in Pamplona, Spain. The role cage and the other safety components that will be offered on the GTI R5 comply with the FIA regulations. The Polo GTI R5 will be homologated in the summer of 2018 and the first deliveries to the customer sports teams are scheduled to take place in the second half to 2018.
Price (Ex-Delhi)
Starts Rs 6.17 Lakhs
Related Stories