24H Series European Championship: Verdonck, Gillion and Rabindra top class driver standings after 12H Brno
Last weekend, the 12H Brno, the third round of the 24H Series European Championship, was held in the Czech Republic. PROsport Performance put in a strong performance again, cementing their position at third place in the championship with 51 points.
The team competed in the GT4/SP3 category in an Aston Martin Vantage GT4. The drivers, Nico Verdonck and Rodrigue Gillion from Belgium, and India's Akhil Rabindra qualified third for the 12 Hour race. They finished the race in third in their class too, completing 294 laps against the overall winner's 321. The team ranked 17th in the overall classification. The Bohemia Energy racing team with a Scuderia Praha Ferrari 488 GT3 piloted by Ji?í Písa?ík, Josef Kral and Matteo Malucelli) continued their undefeated streak here to be the overall victors.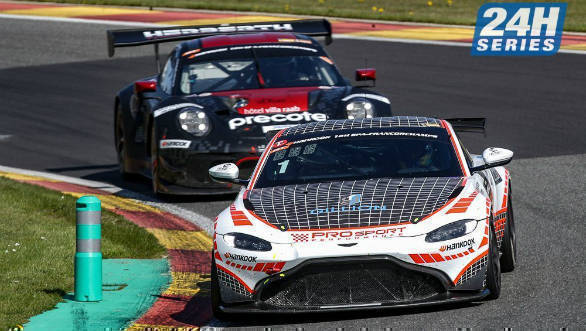 With 49 points each, Verdonck, Gillion and Rabindra are at the top of the driver's standings for their class. The next round will be held at Portimao between July 5 and 7. At Mugello and Spa before this, PROsport Performance had taken a podium and class win respectively.
Price (Ex-Delhi)
Starts Rs 4.4 Crore