2022 Land Rover Range Rover review - the best car in the world?
We might have got it wrong all along. We've been told that the best car in the world is a luxury sedan. And while that can feel very true when you're actually travelling in a Mercedes-Benz S-Class, we think there's a car, nigh, SUV that can do it better. And that SUV is the 2022 New Range Rover.
The best car in the world is subjective, of course. But universally accepted criteria for the part are timeless design, luxurious interiors, space, and just intuitiveness. All things that the New Range Rover seems to have covered, with a healthy side of go-anywhere abilities that elevates the whole proposition. It's an evolution, style-wise at least, but everywhere else it seems like a leap forward. New MLA-Flex architecture that's lighter, new interiors, new tech, new suspension, and rear-wheel steer for the first time – the list goes on.
All in a luxury SUV that starts at Rs 2.49 cr, ex-showroom, which does make it a fair bit more expensive than the sedan competition. But then again, the Rangie has traditionally been a more affordable alternative to the Bentleys of the world. So, just how well does the New Range Rover stack up in being the best car in the world?
2022 Range Rover Styling
Now the Range Rover formula has always been a mix of understated elegance and utility, and the new one… well it looks a lot like the old one. But it's even cleaner, and simpler. Does an SUV need pop-up door handles, recessed window sill liners, and hidden tail lights? No, but it's sort of like a sculpture in a modern art museum, where when you spot the details that make it what it is, you go "How clever!" More clever is the Range Rover's coefficient of drag of just 0.30, impressive for an SUV that taps in over 5m long, on a 3m long wheelbase. And it's also available in a long-wheelbase model! The one we're driving is the standard wheelbase Autobiography.
2022 Range Rover Interiors
When you climb into the cabin, and it is a climb even with the suspension in access mode, you're greeted by more of that simplicity that just works. But by no means does simple translate to bare. It's as plush as it gets in here; even the roofline is leather. The seats themselves are amongst the most comfortable I've had the good fortune of situating myself on. Picture this: you can even (electronically) bring the headrest forward of the seatback, and then curl the sides around your head to provide the perfect support, and it doesn't necessarily need you to jump through hoops in the menus to do it.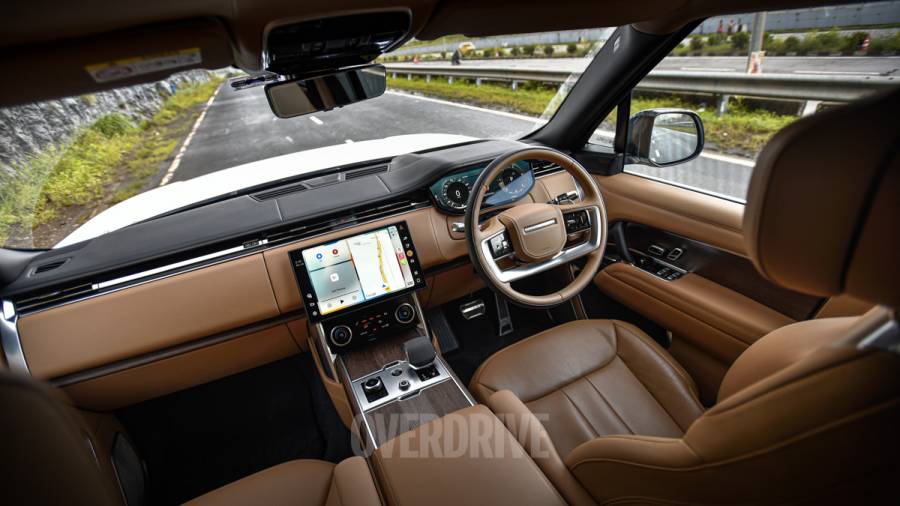 That last bit is just a small example of how easy to use and intuitive things in the Range Rover get. Space, even on this non-long wheelbase Autobiography model, is limo-rivalling. Setting a position on the plushly cushioned rear seats, even reclining them and accessing the excellent foot support, is more intuitive than some other German luxury sedans. There's seat ventilation and heating all around, and even the massage programs feel more gentle yet equally effective, once again compared to the German sedans. With literally everything electric or powered, long term reliability could be a question though. For example, the powered fold for the rear seats didn't seem to want to engage, until we stopped the car, turned everything off, and started it again. Easy enough fix, but who knows if it will always be that easy? But then again, that's something you could say of any modern car, so we can't hold it against the Rangie.
2022 Range Rover Driving Impressions
Often with cars in contention for that superlative title, you're dealing with a whole lot of real estate. With a Range Rover, you worry a little less about getting your real estate beached on a speed breaker given the up to 219 to 295mm ground clearance. That's more than even the Defender! But you still have to pilot around a 5m long car, which can make everyday tasks a chore.
But rear-wheel steer does a brilliant job of shortening the Rangie around you, a feeling heightened by the excellent visibility all around. That ease of driving it really highlights the Range Rover experience, though the superb NVH characteristics, smoothness and comfort will probably matter more to the boss in the back seat. Before we go back there though, the 3.0-litre diesel in this D350 could easily be mistaken for a petrol. Progress is smooth, linear and largely whisper-quiet until you get to the mid-reaches of the rev band.
This 2.4-tonne SUV can hustle though, recording the 0-100kmph run in just 6.9s in the wet when set in Dynamic mode, which also allows for launch control. Kickdown acceleration for 30-50, 50-70, and 60-80kmph is a little slower, at 1.9, 2.0 and 2.2 seconds respectively, but that's down to the gearbox. The 8-speed auto is still lazy but the milled paddle shifters, and/or switching to the Dynamic drive mode can fix that in a jiffy. For the most part, it's best to let the Rangie do what it does: float down the road.
The ride quality, even on the 22-inch wheel/tyre package this model wore, allows for that, except for a slightly lumpy ride at very low speeds over broken surfaces. You can feel the air suspension hard at work to fight the physics of those thin sidewalls, but it does need speed to come into its own. At city speeds and above, it all begins to work well, and with active anti-roll bars, all kinds of body movements are supremely well-controlled.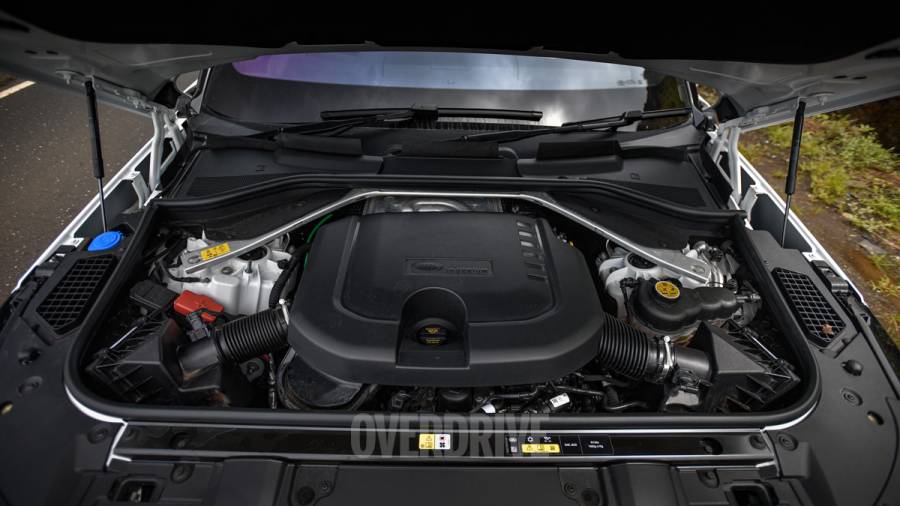 2022 Range Rover Verdict
So, then there's very little the Range Rover seems to get wrong. Style, comfort, plushness, space, and tech that actually works for you. But is it worthy of being called the best car in the world? Just for offering everything the luxury limousines do, with the advantage of being able to handle the worst of our roads, the Range Rover certainly earns the tag.
Words: Simran Rastogi
Photography by Anis Shaikh
Price (Ex-Delhi)
Starts Rs 1.74 Crore
Price (Ex-Delhi)
Starts Rs 1.57 Crore