2021 Land Rover Defender 90 launched at Rs 76.57 lakh
Eight months after Land Rover India launched the Defender 110 in the country, deliveries of the short-wheelbase 3-door Defender 90 are expected to begin, with prices starting at Rs 76.57 lakh, ex-showroom, or approximately Rs 7 lakh under the starting price of the Defender 110. While the five-door Defender 110 was initially launched in a single 2.0-litre P300 petrol variant, with 3.0-litre P400 petrol and D300 diesel powertrains added to the mix in March this year, the three-door Defender 90 is available with all three engine/gearbox options currently. Notably, while prices for the Defender 90 were revealed at that time, current pricing stands a little higher than previously claimed. 
The Defender 90 can be specced as a standard 5-seater, or 6-seater with the addition of the front row jump seat, same as the Defender 110, which can be specced to seat up to eight passengers. That apart, the Defender 90 is available in S, SE, X-Dynamic, HSE and X trims, with X and X-Dynamic trims carrying similar equipment to the top-end HSE variants, with 10-inch infotainment, 12.3-inch digital instrumentation, Meridian audio, 360-deg camera and more.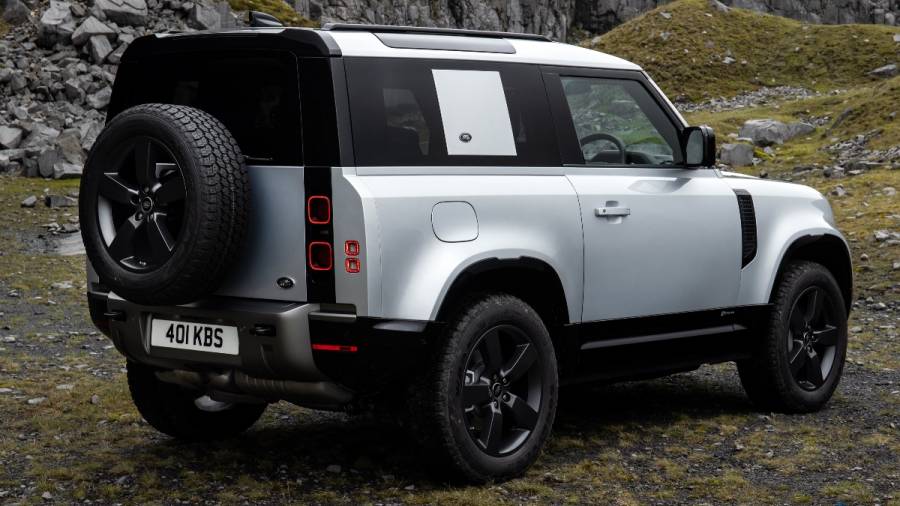 Compared to the over 5m long Defender 110 (overall length 5,018mm with spare wheel) on its 3,022mm long wheelbase, the Defender 90 clocks in at 4,583mm long (with spare wheel, 4,323mm without) on a 2,587mm long wheelbase. The Defender 90, by virtue of its shortened length, and three-door layout also weighs in 178kg under the 7-seater Defender 110, or 121kg than a 5-seater Defender 110. However, the Defender 90 at 2.1-2.3 tonnes at the kerb is still quite heavy but as mentioned is virtually identical to the Defender 110 in the features and technology it offers. Off-road, unsurprisingly the short-wheelbase Defender 90 offers a little more breadth to the capabilities versus its larger sibling. Approach/departure/breakover angles for the Defender 90 stand at 37.5/40/31-deg versus the Defender 110's 31.5/40/27.8-deg, all figures for the SUVs in off-road height modes, which give you the full 291mm of ground clearance with the standard air suspension.
Accordingly, performance for the Defender 90 betters the Defender 110, but just about, with figures ranging from a tenth to three tenths quicker depending on the powertrain. The 2.0-litre four-cylinder in the P300 outputs 300PS/400Nm, the 3.0-litre six-cylinder in the P400 stands at 400PS/550Nm, and the 3.0-litre six-cylinder diesel D300 makes 300PS/650Nm, with outright acceleration timings at 7.1s, 6s and 6.7s respectively. 
Variant-wise pricing for the Defender 90 is as follows (all prices ex-showroom): 
P300 - Rs 76.57 lakh
P300 S - Rs 80.07 lakh 
P300 SE - Rs 82.73 lakh 
P300 X-Dynamic S - Rs 82.78 lakh 
P300 X-Dynamic SE - Rs 85.44 lakh 
P300 HSE - Rs 86.84 lakh 
P300 First Edition - Rs 87.59 lakh 
P400 SE - Rs 89.25 lakh 
P400 X-Dynamic SE - Rs 91.96 lakh 
P400 SE - Rs 93.51 lakh 
P400 First Edition - Rs 94.11 lakh 
P400 X-Dynamic HSE - Rs 96.04 lakh 
D300 SE - Rs 97.66 lakh 
D300 HSE- Rs 1.02 cr
D300 X-Dynamic HSE - Rs 1.05 cr
D300 X - Rs 1.12 cr
Also read, 
2020 Land Rover Defender road test review 
2020 Land Rover Defender launched in India
Price (Ex-Delhi)
Starts Rs 73.98 Lakhs
Related Stories