2020 Volkswagen ID.4 EV SUV unveiled globally
Volkswagen has unveiled the second model in its new all-electric ID line-up of cars, the Volkswagen ID.4 electric SUV. The ID.4 is the production version of the ID. Crozz EV SUV concept that unveiled in 2017, and was also showcased at the Auto Expo 2020.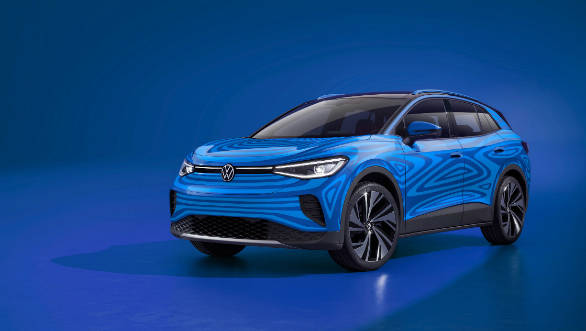 The styling of the ID.4 follows the template set by the ID.3 hatchback. There are the set cues of the ID brand like the slim grille, the wide-sweeping headlamps and more flowing bodywork. Other unique design elements are the wide haunches and the kinked window line which adds a measure of intent. The rear sports a sloping roofline paired with a large rear spoiler while the tail lamps come connected via a full-width LED light bar. Also seen here is the heavy cladding and a curved-in bootlid. The interiors haven't been shown yet but we expect it to derive from that of the ID.3 hatchback. So expect a minimalistic look inside, with a free-standing instrument cluster, a small digital instrument cluster and layered dash elements.
The size of the battery pack has not been revealed yet, but Volkswagen says that the EV SUV will do 500km on a single charge. It will be based on the MEB EV architecture and have its battery-pack placed below the floor of the vehicle. The ID.4 will initially be sold as a rear-drive version only before a dual-motor AWD joins the line-up. The launch date of the ID.4 hasn't been revealed yet, but it will follow the launch of the ID.3 hatchback later this year.