2020 Ducati Multistrada V4 with radar tech enters production, unveiling on November 4
Ducati has made an official announcement regarding the upcoming fourth-gen Multistrada V4, which will be unveiled on November 4, 2020. Among the various highlights in terms of design and the V4 motor, the 2020 Multistrada will be the world's first motorcycle to feature front and rear radar technology. The Italian motorcycle manufacturer had started working on radar tech as early as 2016, with a formal announcement in 2018.
In 2016, Ducati was working in conjunction with the Department of Electronics, Information and Bioengineering of the Politecnico di Milano University. The study had led to the development of a warning system based on a rear radar, able to identify and point out vehicles present in the blind spot or traffic approaching at high speed from behind. In 2017, Ducati selected a primary technological partner to ensure system suitability for production - by completing the package with a second radar sensor positioned at the front. The purpose of this device will be to manage the adaptive cruise control, allowing a given distance (which can be set by the user) to be maintained from the vehicle in front, and warning the rider of any risks of distraction-related head-on collisions.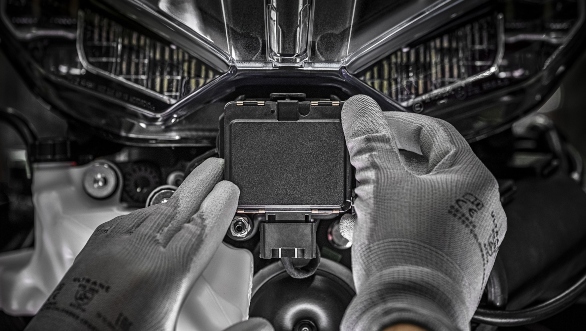 Both the front and rear radars have been developed and produced in close cooperation with Bosch. Ducati mentions that each radar has compact dimensions (70 x 60 x 28 mm, similar to a modern action camera) and has been neatly integrated into the bike, weighing only 190 grams. The radar positioned in the front of the vehicle controls the operation of the ACC (Adaptive Cruise Control), which by means of controlled braking and acceleration automatically adjusts the distance (selectable on four levels) from other vehicles when riding at a speed between 30 and 160 kmph, stated Ducati in an official release.
Also read, 
Upcoming Ducati Multistrada V4 spied again, this time on trails
Price (Ex-Delhi)
Starts Rs 18,99,000