2020 Chevrolet Corvette teased before official unveiling on July 18
American car manufacturer Chevrolet has released an official teaser of the new-generation 2020 Chevrolet Corvette that is shown for a fraction of seconds driven on a race track. It has been confirmed for an official unveiling on July 18, 2019. Seen in this teaser video is the late Zora Arkus-Duntov a.k.a the father of the Corvette sitting in the CERV 1 prototype. The video also has quick snaps of different iterations of the past Corvettes in concept and prototype forms.
The exact technical specifications of the new Vette are not sure, however it has been confirmed that Chevrolet is building a mid-engined Corvette and it will be available in two versions, road car and a race car. The test mules reveal that there is still some time before the production model comes into existence
It is being said that the upcoming mid-engine Corvette C8.R Race Car might ditch the performance spec naturally aspirated 5.5-liter V8 for a turbo-charged unit that should make this one lighter and a lot more powerful than before. The Chevy C8.R might be powered by a twin-turbo 4.2-litre V8 that will make 650PS of power or a 5.5-litre V8 that will produce an impressive 850PS of power. Additionally, there are also rumours that Chevy will continue the naturally aspirated engine only to make it produce 500PS from a 6.2-litre engine.  Considering the need of the hour is cleaner and efficient tech, it can't be ruled out that the Vette might get an hybrid as well, later in its production span. A 1,000PS total output is what the hybrid powertrain could be capable of.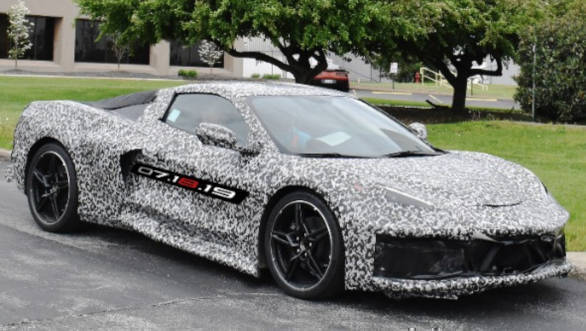 The Next Generation Corvette will be revealed on July 18, 2019.
We believe Chevrolet will launch the base Stingray version while its more hot performance-spec versions will join the line-up at a later stage. General Motors has already added a second shift and more than 400 hourly jobs at its Bowling Green (Kentucky) Assembly plant to support the production of the new-gen Corvette. The Bowling Green Assembly has produced more than one million Corvettes since it opened in 1981. The plant has the largest solar array of any automaker in Kentucky. The first-generation Corvette was introduced as a 1953 model year. Originally designed as a show car for the 1953 Motorama display at the New York Auto Show, it generated enough interest to go into production.
Also read, 
Mid-engine Corvette C8.R Race Car spied, might be powered by twin-turbo V8
Video worth watching: 2019 Chevrolet Corvette ZR1 top speed run
755PS/969Nm making 2019 Chevrolet Corvette ZR1 is here!
Customised Chevrolet Corvette is the world's fastest street-legal electric car