2019 Volkswagen Touareg teased before March 23 reveal in Beijing
Volkswagen has released a second teaser video before the all-new 2019 Volkswagen Touareg SUV is revealed in Beijing, China on March 23. The third-generation SUV will be based on Volkswagen's MLB Evo platform which also underpins the likes of the the Audi Q7, Lamborghini Urus and Bentley Bentayga. This will allow the new car to weigh up to 100kg less than its predecessor.  The 2019 VW Touareg will be powered by a range of V6 petrol/diesel engines and a plug-in hybrid version powered by a 2.0 litre TFSI turbocharged petrol engine is also expected to be a part of the lineup. The 3.0-litre V6 diesel will be offered in two states of tune, 215PS and 270PS, while the hybrid version is expected to have an all -electric range of 50km. The new platform will also offer features like rear-wheel steering and air suspension, along with roll stabilisation.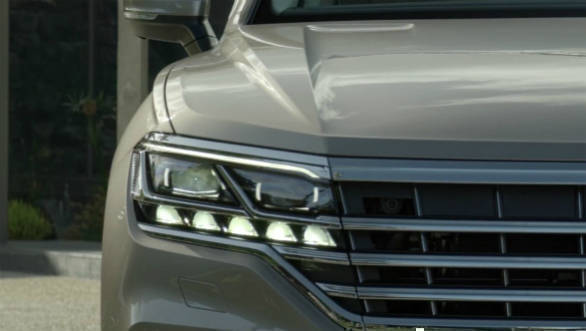 The exterior of the car will be inspired by the the T-Prime Concept GTE  and the design will be a mix of soft curves and straight lines, similar to the Tiguan which was launched in India last year. A prominent design element is the merged front headlight and grille combination. The headlights will also feature Volkwagen's Matrix LED lighting technology. On the inside, the Touareg will be equipped with a 12-inch digital instrument panel and a 15-inch touchscreen on the center stack. Further, the teaser video also shows a feature-packed cabin trimmed in aluminium and real wood, with a central terrain control dial.
The last generation Touareg was sold in India between 2012 and 2014 before being discontinued. It is not known if Volkswagen will be bringing this model into the country but given that the full-size luxury-SUV segment has seen good growth in the country recently, the Touareg could be a viable cut-price alternative to cars like the Range Rover Sport, Porsche Cayenne and Mercedes GLS-Class.
Price (Ex-Delhi)
Starts Rs 70.12 Lakhs
Price (Ex-Delhi)
Starts Rs 4.1 Crore
Price (Ex-Delhi)
Starts Rs 3 Crore
Price (Ex-Delhi)
Starts Rs 1.19 Crore